---
SFN Expo – Scottish Fitness & Nutrition Annual Event
---
Al-Sahawat Times | Ethical Global News from Oman and UAE | Donate HERE
---
SFN EXPO is a sport, fitness and nutrition expo which is held in Glasgow, Scotland every year. Correction, SFN, is THE Scottish fitness and nutrition expo, held in Glasgow each year.
Al-Sahawat Times (under previous management) first attended SFN 1 back in 2014. Nutrition expos of the past were something to avoid, semi-nude people desperate for attention to get sponsored, huge queues for stalls offering small discounts on products already available in stores and online. SFN 1 was the much needed wind of change.
What attracts so many to SFN Expo is that it is so much more accessible to people from out side of the industry who are keen on fitness and nutrition without the fence-varnish spray tans and lack of clothing.
With the free seminars on offer from names like Tony Pang, Layne Norton and Ben Coomber the 'average man' could gain some top tips on improving their personal regim without being made to feel out of place. Another name that attracted the crowds was Ryan Terry, famed for being very down to earth and approachable. As with most Expos there were lots of free samples, which is great and overall you left feeling more educated and excited to learn more, work harder and improve your fitness and nutrition.
Every year since the technology, time and effort, seminars, stands and interaction levels are ramped up to a whole new level. SNF 3 (2016) has been a storm of video interactivity with the stars of the industry, education, fun and testing (and a good helping of fun and play).
Highlights included Saturday meet and greet with Michelle Lewin and Sunday meet and greet with Eddie Hall and Clean Eating Alice.
Some great things happening for SFN 4 (2017) are the Protein Pow Workshop, Les Mills Classes and the return of Phil Learney who is presenting TWO seminars. Instagram sensation Clean Eating Alice also confirmed on her Twitter that she is attending for her second year, and Zanna van Dijk is a strong possibility too. Both these ladies promote a balanced attitude to food and fitness without being overly intense and intimidating.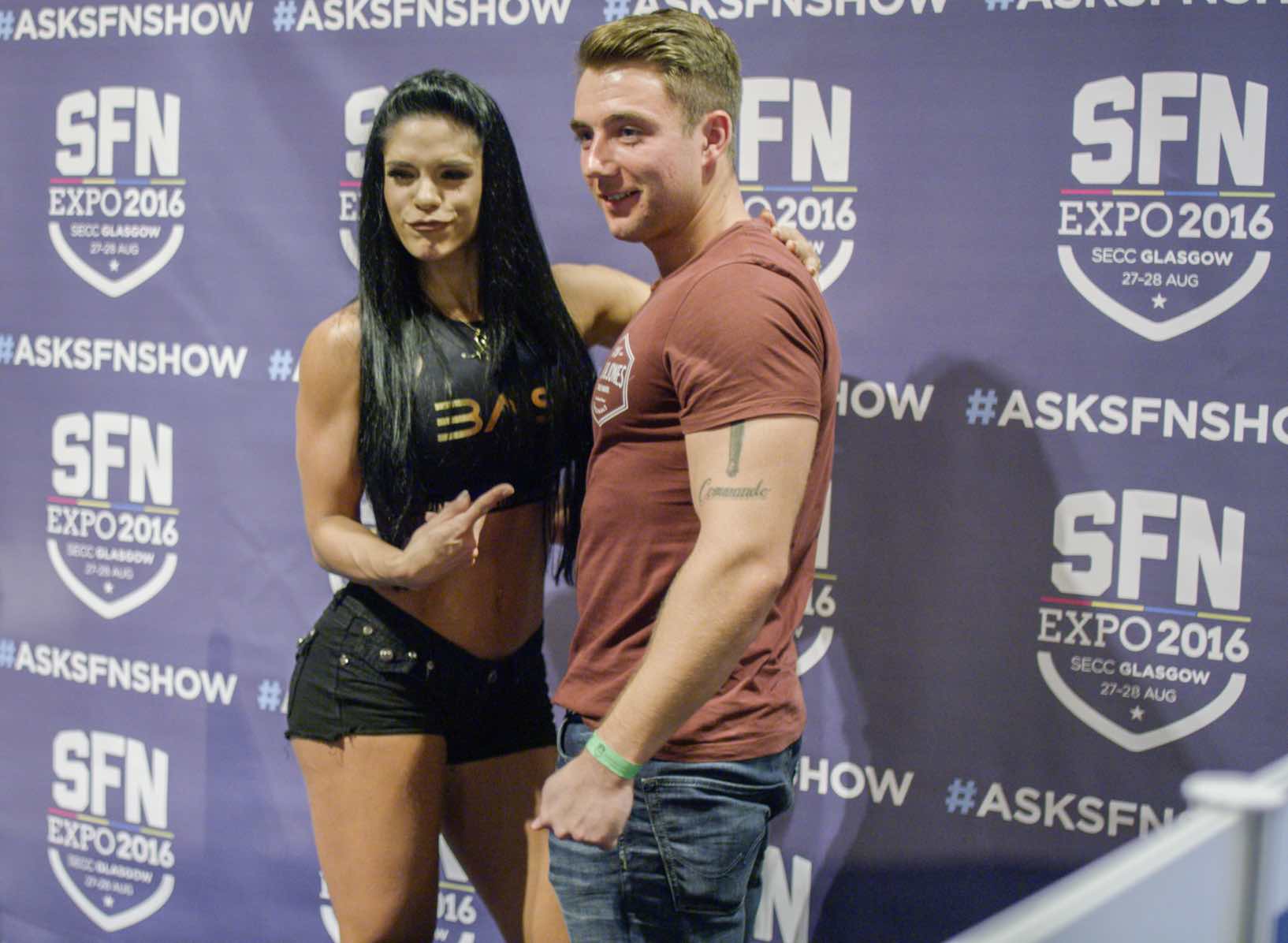 How big is SFN?
SFN organizers, QD Events hold many of Scotland and the SECC's biggest events, such as The Scottish Wedding Shows, the Scottish Caravan, Motor-Home & Holiday Home Show and IRN-BRU Carnival, attracting audiences ranging from 2'000-165'000 per show.
Why go to SFN?
There are many reasons to go to SFN. If your an industry professional then clearly, you can't afford to miss the annual pilgrimage.
But what if you are just a fan of fitness, or interested in improving your diet, or even just looking for a new, healthy hobby or pass time you can do alone, as a couple or as a family? Then this is perfect for you!
The education, free samples and discounted products as well as interactive demonstrations and experts to ask for advise… all provide a well rounded and priceless experience that simply googling or asking 'the guy at the gym' can't rival.
Is SFN for me?
YES! There is no need to be a bodybuilder, or a bikini model for even a health/fitness professional. This expo really is open to absolutely everyone. And the tickets are affordable. You will come away with so much information and motivation to learn more about nutrition, fitness and health.
For companies, bloggers, youtubers and manufacturers this is obviously the perfect networking opportunity even without a stall or seminar of your own, the connections you make at SFN have the potential to be a game changer. From customers, suppliers, partners, creative ideas to media contacts the event is of innumerate value.
What if Scotland is just too far?
For those who can't make the trip all the way north to Scotland in October then England hosts the BodyPower Expo in Birmingham's NEC every May.
Travelling in from overseas? BodyPower and SFN are inclusive enough to allow you to incorporate the Expo weekend into your family holiday. A week or two in London or Edinburgh with a day trip or two days to the expos won't rock the boat on a family holiday with plenty for all to enjoy. The surrounding cities themselves rich with tourist attractions, history and culture.
Since you're here …

… we have a small favour to ask. More people are reading Al-Sahawat Times than ever but advertising revenues across the global media industry are falling fast. And unlike many news organisations, we haven't put up a total paywall. We want to keep our journalism as open as we can. So you can see why we need to ask for your help. Al-Sahawat Times' independent, investigative journalism takes a lot of time, money and hard work to produce. But we do it because we believe truly ethical media and an unbias perspective really matters.

"I appreciate there not being a paywall: it is more democratic for the media to be available for all and not a commodity to be purchased by a few. I'm happy to make a contribution so others with less means still have access to information."

If everyone who reads our reporting, who likes it, helps fund it, the future of ethical media and the futures of our staff and their families would be much more secure. For as little as £1, you can support Al-Sahawat Times and it only takes a minute. Thank you.
---
This story is available on:

APPLE NEWS | GOOGLE NEWS | AL-SAHAWAT TIMES
---
Talk to a journalist
Email: NewsDesk@alsahawat.com
Web: alsahawat.com
Follow Al-Sahawat Times
---
J.Cooper@theinternational.org.uk | Journalist's Profile