---
Japan has created the solution to greasy fingerprints on your screens
---
BREAKING NEWS

Al-Sahawat Times

This story is currently developing. Further updates will follow

To be notified of developments as they break
---
Al-Sahawat Times | Ethical Global News from Oman and UAE | Donate HERE
---
Advertisement – Advertise here from OMR 100 / $275 USD
---
If there are two things that Japan loves it is technology and cleanliness. But the two do not always go hand in hand.
We have all been there; Working lunch at our desks or laptop on the sofa with late night snacks. The delicate balancing act in trying to eat with out pinky fingers and type with our index fingers so as to avoid greased up keyboards and screens.
In technology loving Japan this issue is a big problem. The country has more screens per capita than any other nation on earth. So just how do they avoid the mother of all grimefests?
---
Japanese snack makers have developed treats that snackers can eat with one hand while trawling smartphones, typing one handed or browsing tablets with the other.
Whilst most people in the Weast fret over the health implications of potato chips, there are those who worry about what they do to our touch screens and keyboards.
Cleanliness orientated consumers are fed up with soiled fingers gumming up smartphones, computer mice, keyboards and other electronica. "I used to eat with my hands and lick my fingers when I was small," said Tomoki Yoshino, 19 years old. "But one day, my game controller got all greasy, and it was really gross."
Some snackers turn to old-school remedies. "If I don't use chopsticks, I'll just end up wiping my hands on the couch," said Rubina Okazaki, 18, a creative director at a media production firm.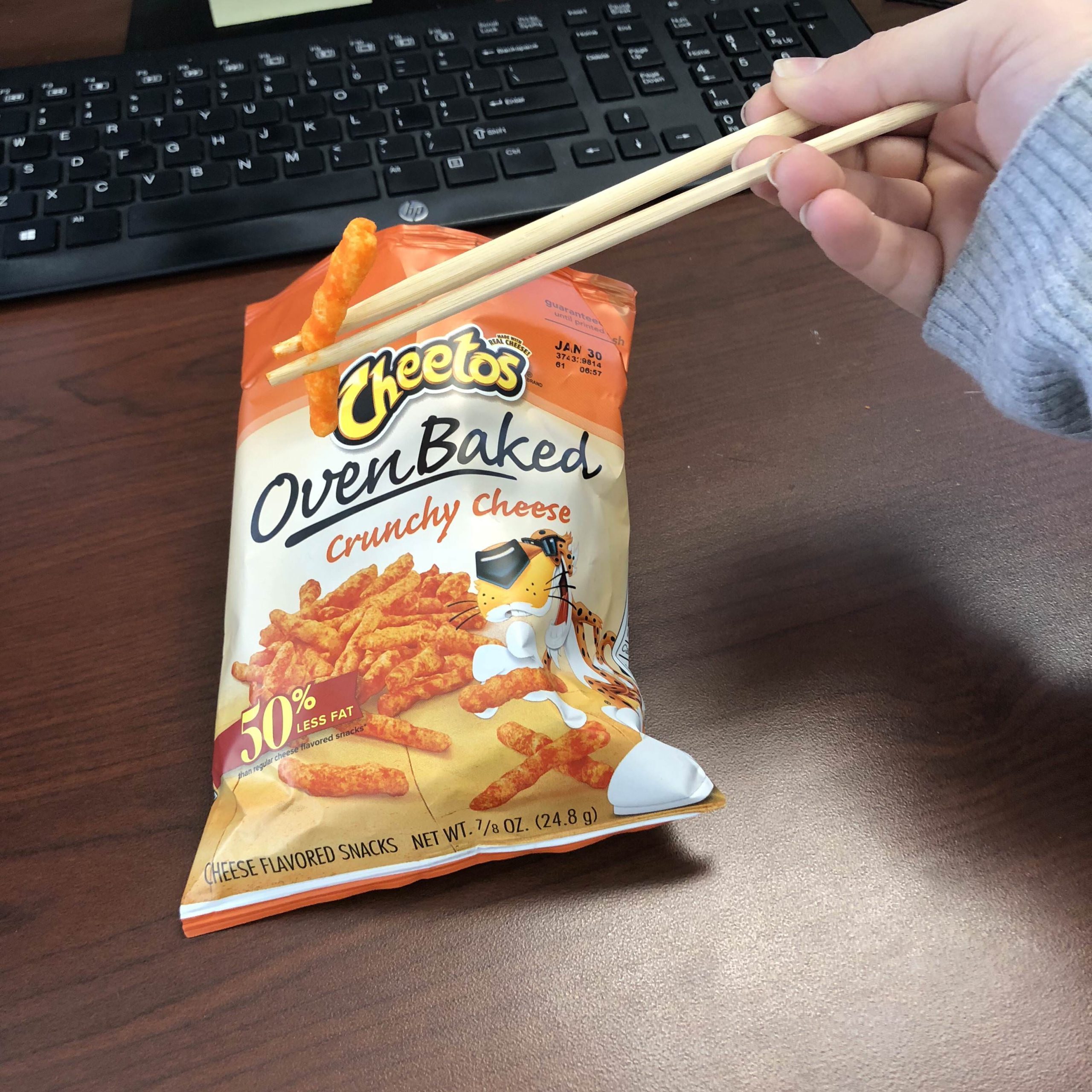 Courtesy of the Japanese, there's a solution that means people will no longer have to choose between snacking and swiping. It involves trawling online with one hand and eating with the other.
Tokyo snack-maker Koike-ya Inc., has already snatched the name. The company's One Hand brand features a line of splintered potato chips and other snacks that can be consumed like a bottled drink. It's marketed with a bold claim:
"a new snack style humankind has been waiting for."
The idea originated with the observation that customers like the mix of potato chip crumbs and flavored powder left at the bottom of the bag. Some eaters tip the chip bag into their mouths to dump the delectable detritus.
"What we said is, 'Why don't we make it easier for them to do that?' " said Kohei Shimosaka, who led a five-member team of chip designers to find the optimum configuration.
It took a year and arguments with those in charge of production. "We would argue over a millimeter in setting the size of the opening," Mr. Shimosaka said.
The research and development finally cooked up a hand-held package with an angled opening. The company doesn't release sales figures, but the line has been successful enough to add a "super salt and nori seaweed" flavor. More may be in the works, the company said.
"With One Hand, I can just take it and chug it," said Keisuke Koresawa, 19, an aspiring professional videogamer. He estimated he spends about half his day in front of a screen, gripping a mouse.
In the old days, he said, "I'd grab a potato chip, put it in my mouth and then right away clean my fingers with a wet wipe."
As with other digital disruptions, there are winners and losers.
One of Japan's largest snack-food makers, Morinaga & Co., said it was killing off Choco Flake, a chocolate-covered corn flake snack sold since 1967. Sales were starved by complaints about chocolate-smeared screens.
Sales are booming for Choco Ball, another Morinaga product, which has a hard chocolate coating. "It doesn't melt," said spokeswoman Rie Terauchi.
Calbee Inc., Japan's top potato-chip maker by market share, gave away a pair of plastic potato-chip tongs during a marketing campaign in December.
"You can eat without getting your fingers dirty!" the package says. It also has a drawing of a person with a smartphone in one hand and tongs holding a chip in the other.
Snack tongs are now sold online, but many people are sticking with chopsticks.
"I use chopsticks too," confessed Ms. Terauchi, the Morinaga spokeswoman. It isn't only about smudge-free smartphones. "You're often doing something else when you're eating a snack and you want to keep your hand clean."
Morinaga is targeting elderly consumers with chocolate products that have a high percentage of cacao, which is regarded as more healthy.
Yoshiko Sugiyama, 73, and her husband, Masayuki, 82, try to stay away from snacks for health reasons, not to protect touch screens. "It's a strange world today where people eat snacks with chopsticks," Ms. Sugiyama said.
The Sugiyama family has, however, always loved oily foods, she said: "If my husband's hands get oily, he just licks them. I always scold him for that."
Hands in the U.S. get just as messy. Yet only M&M's advertise that its candy-coated chocolate "melts in your mouth, not in your hand," a slogan from the 1960s.
Students at the OCA Osaka College of Design and IT, one of the few schools in Japan offering professional training in esports, are among those stressed out by grease-coated fingers.
They are often pinned down for long stretches by on-screen enemies. The screen battles get you hungry, said Mr. Koresawa, the videogamer, but "if the crumbs get stuck in the keyboard, it could be fatal."
Snack makers says it's tough to turn the attention of young consumers away from their screens. Some in the business pine for a past era, when people would binge on junk food together.
"Kids used to gather around their favorite snack, chat with each other and have a good time," Koike-ya spokesman Naoya Yamaguchi said. "But now, that's all being done on the smartphone. They don't even have to get together."
---
Not only Japan
Eating snacks by pouring or with the use of chop sticks or wet wipes is increasingly more popular in the Middle-East and Europe.
Yet Japan is the First Nation to introduce specifically designed snacks and packaging to elevate the hygiene and technology hurdles the modern life styles of the 21st century now face.
In the head office of the Al-Said Group in Muscat, Oman (in the Middle-East) top corporate executives in their immaculately tailored traditional Arabian clothing sit around a casual and modern style board room. There are sofas instead of chairs and and a low board table with dials and switches to control the digital screens that occupy almost every inch of the wall space.
The businessmen sip sweet tea from small glass cups, talk softly and eat snacks from small bowels. Chopsticks and wet wipes are in abundance to preserve hygiene.
"It's company policy," Taimur tells the reporter, "hygiene is taken very seriously here."
Japan

??

This story is about JAPAN
---
Since you're here …

… we have a small favour to ask. More people are reading Al-Sahawat Times than ever but advertising revenues across the global media industry are falling fast. And unlike many news organisations, we haven't put up a total paywall. We want to keep our journalism as open as we can. So you can see why we need to ask for your help. Al-Sahawat Times' independent, investigative journalism takes a lot of time, money and hard work to produce. But we do it because we believe truly ethical media and an unbias perspective really matters.

"I appreciate there not being a paywall: it is more democratic for the media to be available for all and not a commodity to be purchased by a few. I'm happy to make a contribution so others with less means still have access to information."

If everyone who reads our reporting, who likes it, helps fund it, the future of ethical media and the futures of our staff and their families would be much more secure. For as little as £1, you can support Al-Sahawat Times and it only takes a minute. Thank you.
---
This story is available on:

APPLE NEWS | GOOGLE NEWS | AL-SAHAWAT TIMES
---
Talk to a journalist
Email: NewsDesk@alsahawat.com
Web: alsahawat.com
Follow Al-Sahawat Times
?Read it on FLIPBOARD
---
M.Sinclaire@alsahawat.com | Journalist