By Rashid bin Abdul Karim Al-Saud
---
Dubai launched driverless flying taxis in July 2017
---
---
Dubai will be treated to a driverless flying taxis service as early as this July according to the city's Road and Transport Authority (RTA), which plans to start flying passengers across the city in July 2017.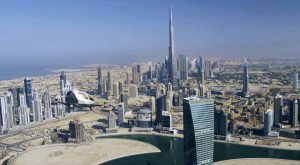 ---
---
---
The driverless passenger drones, called Ehang 184, can carry one person and a small suitcase at a time.
Powered by eight propellers, the drone will cruise at around 60 kilometers per hour.
The Autonomous Aerial Vehicles (AAV) have been seen hovering over the sand dunes at airfields in Dubai during test flights throughout winter 2016-2017.
The AAV taxi was on display at the World Government Summit 2017 in Dubai, where the partnership between the RTA and Chinese drone makers Ehang was first publicly announced.
The routes will be pre-programmed with set locations for pick up and landing, and monitored by a team on the ground. Once inside, passengers will choose their destination on a touch-screen monitor.
When not in use the small AAV taxis can fit snugly into a single car parking space.
---
---
---
---
This story is available on:

APPLE NEWS | GOOGLE NEWS | AL-SAHAWAT TIMES
---
Talk to a journalist:
Email: NewsDesk@alsahawat.com
Web: alsahawat.com
Twitter: @alsahawat_times
---
R.Saud@alsahawat.com