---
Ariel Winter creates complaints storm
---
---
19 year old children's actress Ariel Winter most famous for her roles in Modern Families, Ice Age: Meltdown and Bambi 2 has created a complaints storm.
---
---
Winter was attending the premier of children's movie Smurfs: The Lost Village in Los Angeles.
The actress posed for photographs with child fans in what many parents deemed a highly inappropriate dress.
The actress wore a highly revealing, skin tight dress with large cutaways at the front, back and sides revealing her tattoos, intimate areas and the fact that she was wearing no underwear.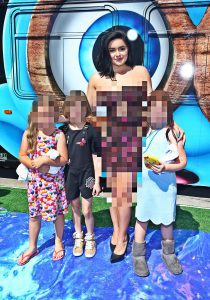 ---
---
Winter performed the indecent stunt following a series of highly inappropriate personal images shared on her self-managed social media profiles, which many children follow.
When asked by the press for a comment over the complains Winter responded:
"I'm not going to fight with someone on my Instagram that tells me they don't like my outfit or I should put my butt away. I'm sorry you think I should put my butt away, but just unfollow me."
---
---
This story is available on:

APPLE NEWS | GOOGLE NEWS | AL-SAHAWAT TIMES
---
Talk to a journalist:
Email: NewsDesk@alsahawat.com
Web: alsahawat.com
Twitter: @alsahawat_times
---
S.Ibrahim@alsahawat.com