---
Restaurant writes "pain in the ass woman" across $215 bill (OMR 80)
---
Advertisement – Advertise here from OMR 100 / $275 USD
---
Al-Sahawat Times | Ethical Global News from Oman and UAE | Donate HERE
---
Advertisement – Advertise here from OMR 100 / $275 USD
---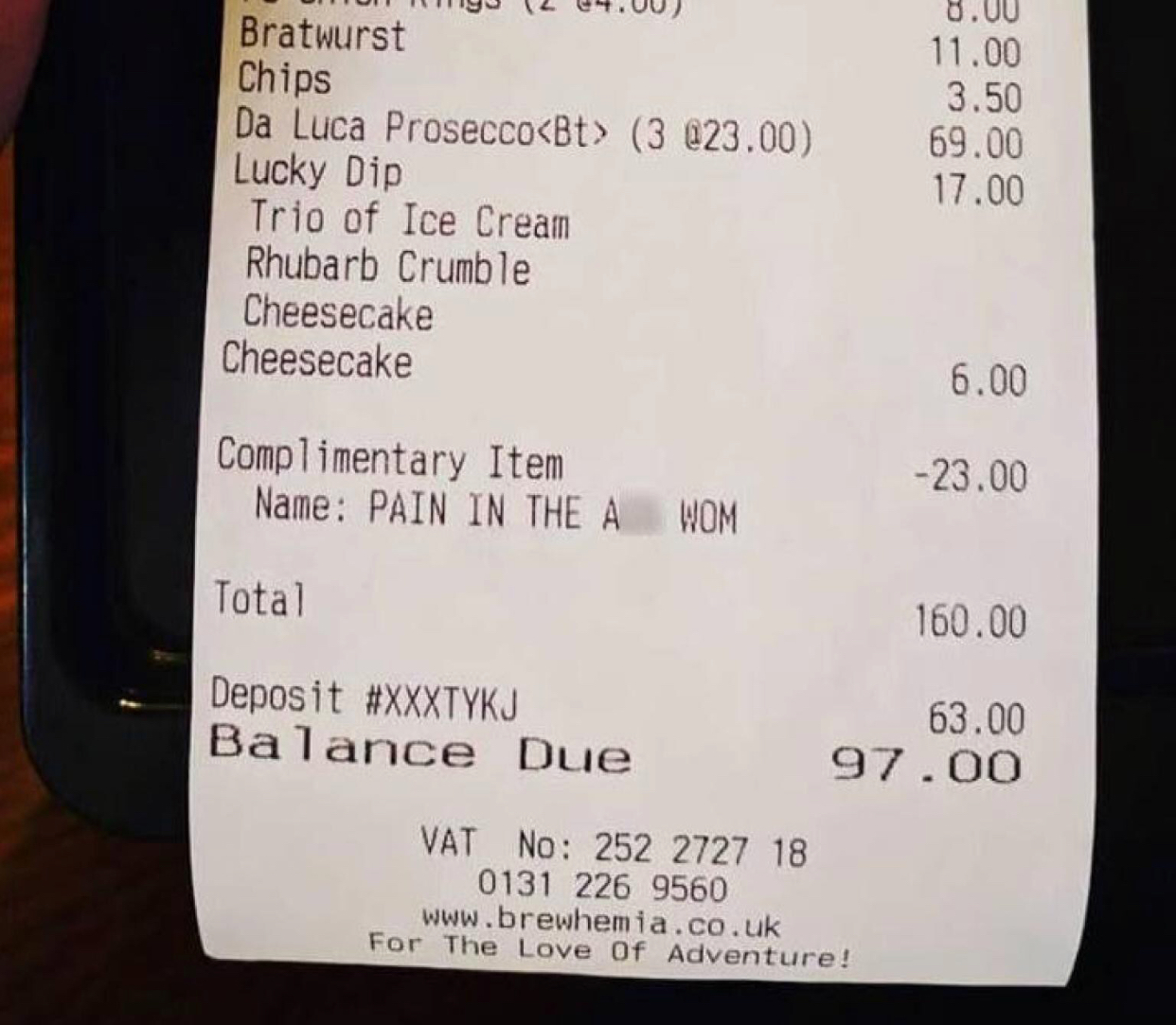 An angry diner has hit out at a restaurant accusing them of calling her "pain in the ass woman" on her £160 ($215 | OMR 80 | KWD 60) bill.
Ms Anna Warrender and two of her friends purchased food and sharab (alcohol) at Brewhemia, in Edinburgh, Scotland, on Saturday.
The group claimed they had to wait 45 minutes for heir food and were told when it arrived they had only 15 minuets to eat, order desert, eat desert, pay and leave as they had only reserved the table for one hour for a £63 deposit.
After complaining, staff Provided the diners a £23 bottle of sharab (alcohol) 'on the house', according to the receipt.
But, the disgusted diners took to social media sharing an image of a bill which appeared to have "pain in the ass wom(an)" typed on the bottom of their reciept.
Ms Warrender and her friend Kate McMillan accused the restaurant of typing the insult on their social media profiles.
Ms Warrender took to social media and wrote: "Absolutely disgusted by the service experienced today in @brewhemiaedin. Food took 45 minutes and then we were told we only had 15 minutes left despite being given dessert menus. Then to top it off this was our receipt. Check out the complimentary items #painintheasswoman."
Ms McMillan posted a picture of the receipt online on December 9 alongside the caption: "That's me #brewhemia #painintheasswoman nice customer service."
The post was met with outcry by followers who branded the accusations "shocking" and "outrageous".
Ms Warrender told Scottish media that she and her friends were given a full refund by the restaurant on Tuesday.
The restaurant is yet to issue a comment to the press, neither confirming or denying that the alleged incident was genuine.
---
This story is available on:

APPLE NEWS | GOOGLE NEWS | AL-SAHAWAT TIMES
---
Talk to a journalist
Email: NewsDesk@alsahawat.com
Web: alsahawat.com
Follow Al-Sahawat Times
---
Sulayman.Said@alsahawat.com