---
California Wildfire | Malibu evacuated as death toll rises
---
Advertisement – Advertise here from OMR 100 / $275 USD
---
Al-Sahawat Times | Ethical Global News from Oman and UAE | Donate HERE
---
Advertisement – Advertise here from OMR 100 / $275 USD
---
Nine people have died of burns in the first day of California's most destructive fire in at least a century as the flames engulfed the town of Paradise, while celebrities fled fast-moving fires in the south of the state.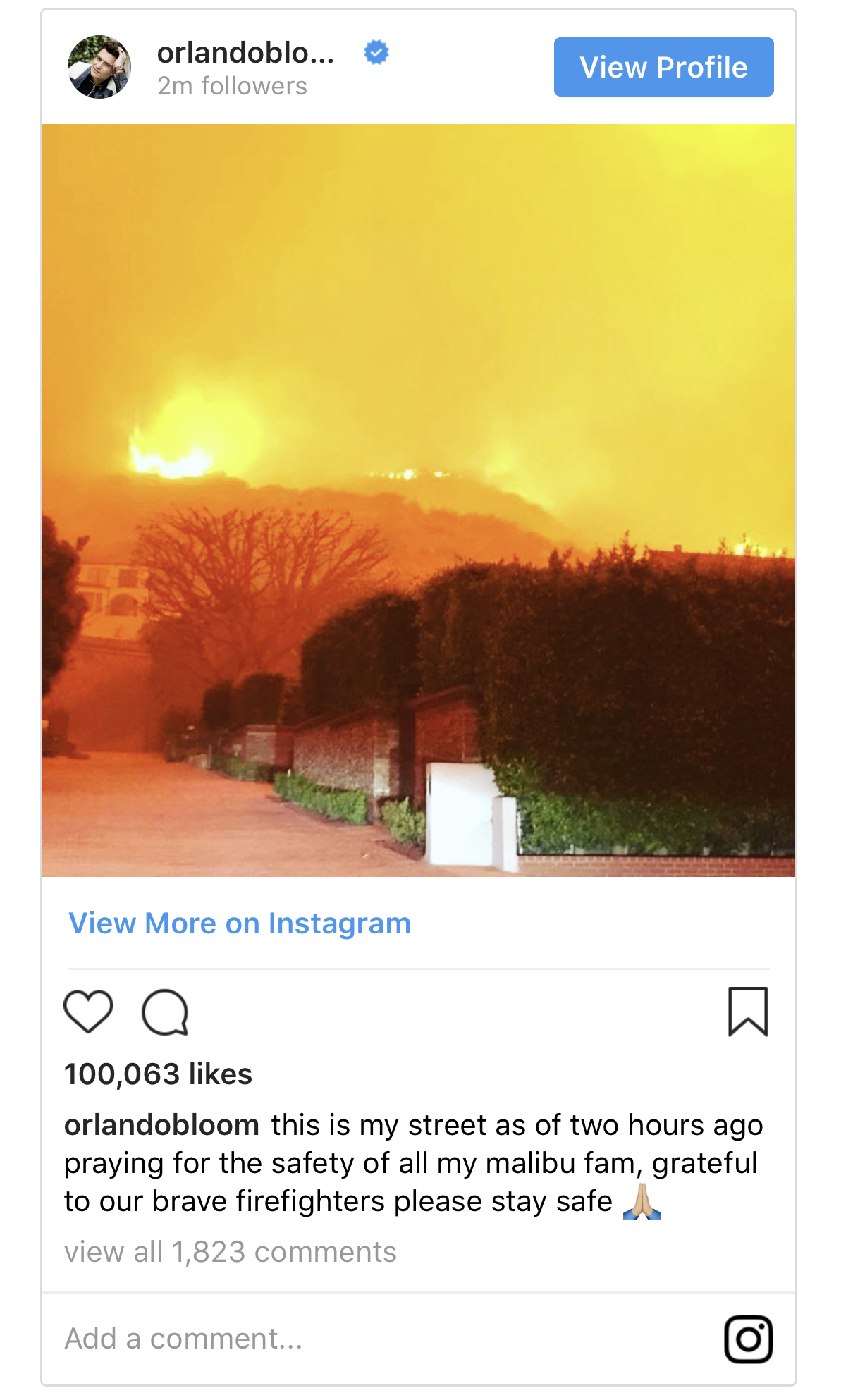 Only a day after it began the so-called "Camp Fire" spread to over 140 square miles in size and levelled the Californian town called 'Paradise', which has a population of 30'000.
More than 2'000 firefighters were battling the blaze, which destroyed more than 6'700 homes and businesses and left 9 dead from burns and many suffering serious smoke inhalation sickness.
Captain Scott McLean, of the California Department of Forestry and Fire Protection, said: "Pretty much the community of Paradise is destroyed. It's that kind of devastation. There was really no firefight involved, these firefighters were in the rescue mode all day yesterday."
He said thousands of buildings had been lost in Paradise, about 180 miles northeast of San Francisco.
Jody Jones, the mayor of Paradise, said the hospital, a McDonald's restaurant, and many other businesses had been entirely engulfed.
She said: "I think we lost a high school and at least one of the elementary schools."
Residents evacuated in panic with some crashing their cars.
Mark Bass, a police officer, said the evacuation was "just a wall of fire on each side of us, and we could hardly see the road".
Officials said all the victims were found in Paradise, including four who died inside their vehicles. Another 35 people had been reported missing and three firefighters had been injured.
With fires burning in both Northern and Southern California 157'000 people have been evacuated, including much of the star studded city of Malibu.
Among the evacuees were Johnny Depp and Kim Kardashian West, the reality television star, who was forced to flee her Southern California home in Calabasas, near Los Angeles.
Kardashian posted on social media a video from an aircraft window showing fires raging below moving across buildings, vehicles and roads.
She shared another video along with the caption: "Pray for Calabasas. Just landed back home and had 1 hour to pack up & evacuate our home. I pray everyone is safe."
Several private and public art and film collections including museaum have reportedly been lost in the fire.
Smoke from the fire could be seen from the site of a mass shooting in nearby Thousand Oaks that left 12 people dead on Wednesday night. (Read)
Caitlyn Jenner's home in Malibu completely burned down, TMZ reported, although her publicist said that the extent of the damage had not yet been confirmed. The former Olympic athlete and reality TV star had already evacuated.
Actor Charlie Sheen, who's family famously own several large properties in Malibu said he had been unable to contact his Hollywood star father Martin Sheen and mother Janet amidst concerns for their wellbeing.
He wrote on Twitter: "i cannot get ahold of my parents, Martin and Janet Sheen. they are in the group, at the staging ground near Zuma Beach. If anyone has eyes on them, please let me know that they are safe and sound in the middle of this horrific scenario."
Cher, who said she had lived in Malibu since 1972, tweeted that the wildfire was coming close to her home, although she said she was not on the property. "Friends houses have burned. I can't bear the thought of there being no Malibu," the singer posted.
Lady Gaga posted a video on her Instagram account saying she had evacuated her Malibu home on Friday, and showing images of dark billowing smoke overhead.
Other celebrities evacuated included Oscar-winning film director Guillermo del Toro, who tweeted that he had abandoned his vast "Bleak House" museum collection of fantasy and horror memorabilia.
"Bleak House and the collection may be endangered but the gift of life remains," tweeted del Toro, director of Oscar best picture winner "The Shape of Water."
Orlando Bloom tweeted a photo from his street showing the wildfire.
The Paramount Ranch, a Hollywood filming location for decades that was recently used by the HBO series "Westworld", was also destroyed.
The ranch served as a location for productions ranging from 1938's "The Adventures of Marco Polo" to TV shows "The Mentalist" and "Weeds." The set in the mountains west of Los Angeles dates to 1927 when Paramount Pictures leased the ranch and began making films there.
Actress, model and activist, Alyssa Milano said her home was "in jeopardy" amid her attempts to safely evacuate her five horses. The actress ultimately got the help she needed and tweeted that her horses were safe. "My children are safe. … Everything with a heartbeat is safe."
The entire 12'000 population of Malibu, which stretches 27 miles along the Pacific Ocean, was placed under mandatory evacuation on Friday.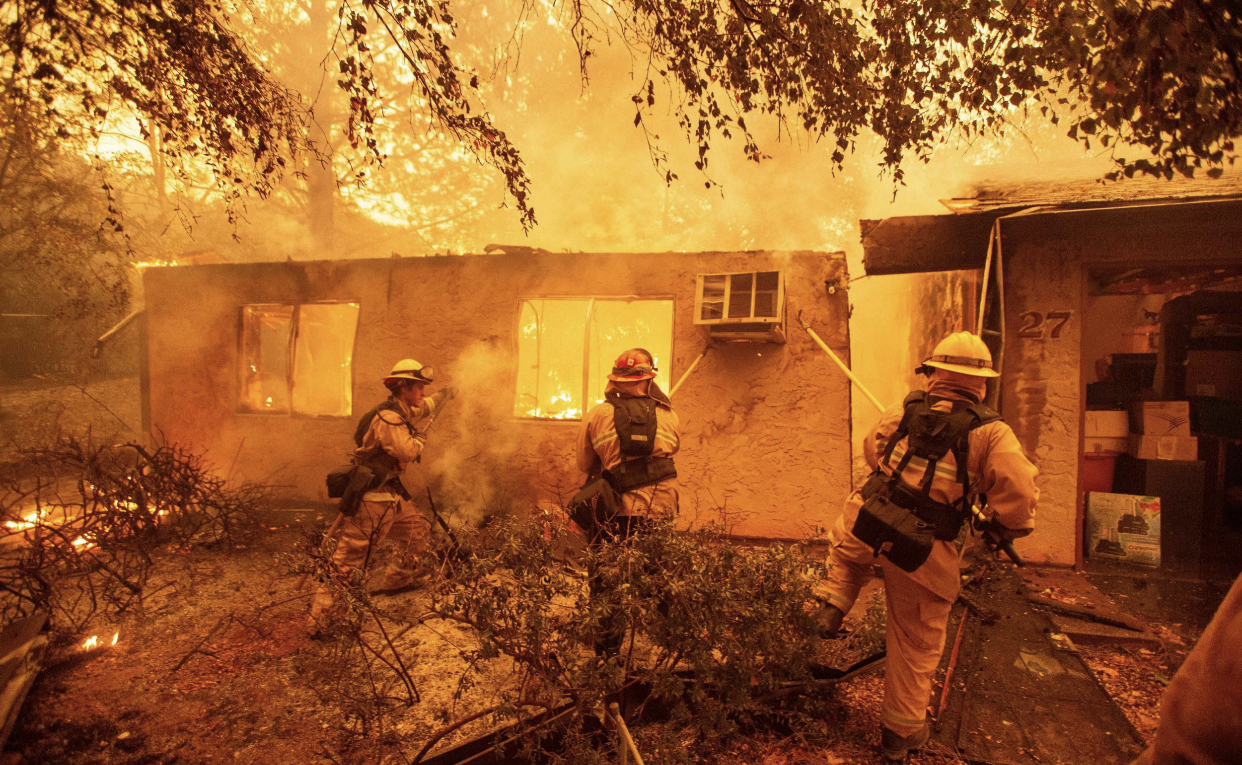 Since you're here …

… we have a small favour to ask. More people are reading Al-Sahawat Times than ever but advertising revenues across the global media industry are falling fast. And unlike many news organisations, we haven't put up a total paywall. We want to keep our journalism as open as we can. So you can see why we need to ask for your help. Al-Sahawat Times' independent, investigative journalism takes a lot of time, money and hard work to produce. But we do it because we believe truly ethical media and an unbias perspective really matters.

"I appreciate there not being a paywall: it is more democratic for the media to be available for all and not a commodity to be purchased by a few. I'm happy to make a contribution so others with less means still have access to information."

If everyone who reads our reporting, who likes it, helps fund it, the future of ethical media and the futures of our staff and their families would be much more secure. For as little as £1, you can support Al-Sahawat Times and it only takes a minute. Thank you.
---
This story is available on:

APPLE NEWS | GOOGLE NEWS | AL-SAHAWAT TIMES
---
Talk to a journalist
Email: NewsDesk@alsahawat.com
Web: alsahawat.com
Follow Al-Sahawat Times
?Readi it on FLIPBOARD
---
C.Simmons@alsahawat.com | Journalist