---
Car rams British Parliament during morning rush hour hitting group of cyclists
---
Advertisement – Advertise here from OMR 100 / $275 USD
---
Al-Sahawat Times | Ethical Global News from Oman and UAE | Donate HERE
---
Advertisement – Advertise here from OMR 100 / $275 USD
---
SO15 Counter Terror Special Operations have confirmed they have arrested one suspect on suspicion of terror offences in relation to an incident at Westminster Parliament this morning.
Special Operations 15 Armed Counter Terror Forces are investigating after a car ploughed through a group of cyclists waiting at traffic lights rammed the reinforced security gates to the British Houses of Parliament today, during morning rush hour.
At least 15 cyclists have been injured with two being hospitalised with serious but injuries not thought to be life threatening, after the driver of a silver Ford Fiesta accelerated across a central divide onto the wrong side of the road, through a crowd of cyclists and into the security barriers protecting the gates to Parliament at 07.40 this morning.
The London Ambulance Service said it had taken two people to hospital and that their injuries were not thought to be life threatening.
Video footage shows the moment the car travelling over 40mph in a 20mph zone swerved and accelerate at the last minute, hitting the group of cyclists at aproximately 50mph before ploughing into barriers outside Parliament. The impact was severe enough to lift the vehicle clean off the ground.
Images posted on social media showed a man in a black puffer jacket and office attire of an ironed white shirt and black trousers, being pulled out of the car at gunpoint with machine guns and long range rifles aimed at him, before being dragged away in handcuffs.
Police said a man in his late twenties had been arrested on suspicion of terror offences. No weapons were found in the vehicle, officers added.
Detectives are now trying to establish the identity of the arrested man who reportedly was unable or unwilling to provide any officially recognised identification.
The suspect remained silent and did not shout, talk or respond to questions at the scene.
Witnesses said the car was travelling at approximately 50mph and appeared to intentionally swerve towards the cyclists and Parliament and smash into a security checkpoint barrier near the St Stephen's entrance, where armed police officers were standing. No police were injured as they weren't standing behind the bomb proof anti-tank barriers, that guard many of London's key locations, at the time.
A builder who saw the crash unfold told Al-Sahawat Times:
"There were 15/20 or so cyclists in their lane and he went through them. He kept driving on and smashed into the gates. There were about half a douzen cyclists left on the floor. There were people chasing after him and shouting for him to stop."
"I couldn't tell how badly the cyclists were injured, it all happened so quick. The police were there so quickly with their guns running up the road."
A witness identifying as Mr. B. Williams, said: "two police officers had to dive out of the way as the car ploughed into security barriers outside Parliament."
Within minutes police threw an SO15 cordon al commonly referred to as a "terror cordon" around Westminster, closing the Underground stations, bridges and roads around Parliament Square has the adjacent areas.
Armed officers stood guard outside the Tube and bomb squad experts and sniffer dogs were brought in to examine the crashed car.
The Houses of Parliament were placed in lockdown and all entrances were closed after the incident.
MPs are currently away for the summer recess with no key persons present at the time of the incident.
The incident came 17 months after a 52 year old male mowed down pedestrians on Westminster Bridge, before stabbing and killing a police officer at the gates of Parliament. In total five people were killed and more than 50 injured.
In the wake of the attack on March 22 last year, a network of military, steel and concrete security barriers and "unspecified" reinforcements were installed around the Houses of Parliament and other key London locations including; buildings, stations, parks religious sites and bridges.
This morning a police spokesman said: "At 7.37am, a silver Ford Fiesta collided with a number of cyclists and pedestrians, before crashing into barriers outside the Houses of Parliament. The driver of the car, a man in his late-20s, was arrested at the scene by armed officers. He has been taken to a south London police station where he remains in police custody."
"There was nobody else in the vehicle, which remains at the scene and is being searched. No weapons have been recovered at this stage."
The spokesman added: "At this stage, we are treating this as a terrorist incident and the Met's Counter Terrorism Command is now leading the investigation."
Last year an videotape initially declared a terror attack outside Parliament was reclassified as an unintentional accident. A male taxi driver suffering from diabetes became unconscious at the wheele of his cab and drove over a pedestrianised area before crashing into row of parked cars. No one was injured in the incident, but the driver was initially arrested on suspicion of terror offences, no charges relating to terrorism were brought against the driver. Yet a large number of British newspapers, who at the time incorrectly claimed Muslims were responsible for the 'attack' failed to publish the later developments and deescalation of the incident.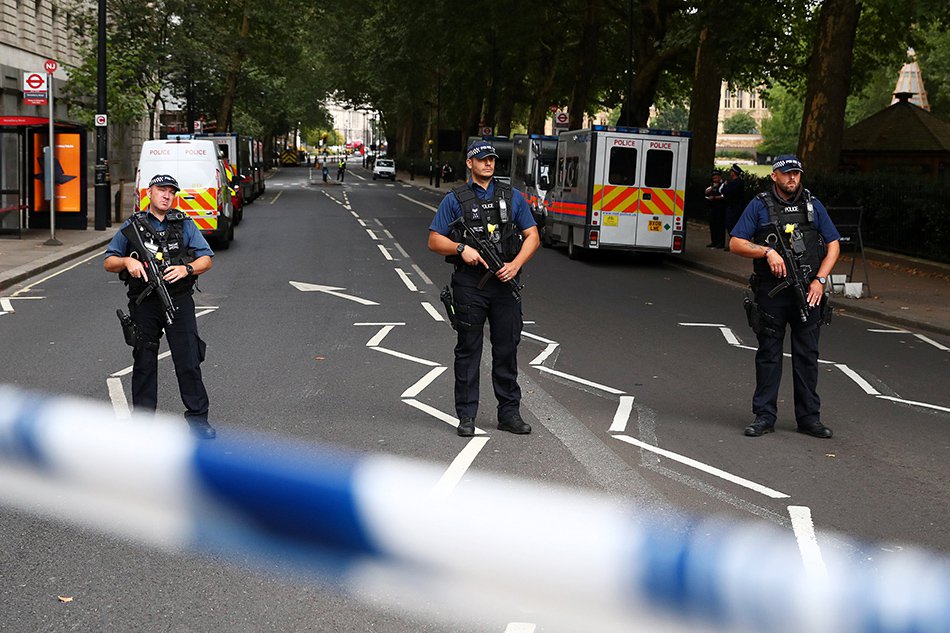 Since you're here …

… we have a small favour to ask. More people are reading Al-Sahawat Times than ever but advertising revenues across the global media industry are falling fast. And unlike many news organisations, we haven't put up a total paywall. We want to keep our journalism as open as we can. So you can see why we need to ask for your help. Al-Sahawat Times' independent, investigative journalism takes a lot of time, money and hard work to produce. But we do it because we believe truly ethical media and an unbias perspective really matters.

"I appreciate there not being a paywall: it is more democratic for the media to be available for all and not a commodity to be purchased by a few. I'm happy to make a contribution so others with less means still have access to information."

If everyone who reads our reporting, who likes it, helps fund it, the future of ethical media and the futures of our staff and their families would be much more secure. For as little as £1, you can support Al-Sahawat Times and it only takes a minute. Thank you.
---
This story is available on:

APPLE NEWS | GOOGLE NEWS | AL-SAHAWAT TIMES
---
Talk to a journalist
Email: NewsDesk@alsahawat.com
Web: alsahawat.com
Follow Al-Sahawat Times
---
C.Simmons@alsahawat.com | Journalist's Profile