---
EU to trow massive beach parties to celebrate cutting off the UK
---
There are now just 71 days until what is now almost certainly a no deal Brexit. The EU has grown tired of the UK's lies and demands over the divorce deal with Tusk responding to Johnson's demands to remove the Northern Irish back stop by posting a photo of himself relaxing in a hammock, smiling, happy and worry free. Whilst Britain wallows in recession with a record number of companies collapsing or relocating.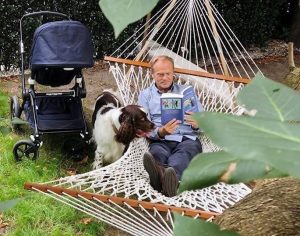 Europe, tired of the UK, is already planning a a series of massive leaving parties to celebrate ditching the UK without being burdened by any ties at all thanks to Boris Johnson's no deal.
On of the largest planned is in the Netherlands, one of the UK's geographically closest neighbours.
Thousands of people have signed up for a Dutch beach party featuring food from across Europe to celebrate the UK departure.
The idea was created by Ron Toekook who wants to bid us a bittersweet farewell on October 31 at the seaside village of Wijk aan Zee near Amsterdam.
Over 71'000 people have either confirmed attendance or registered an interest to attend online through the party's social media page.
Media worker Mr Toekook said: 'It will be a nice goodbye to a good friend who is going on an exciting adventure, but is perhaps not too bright.'
With the UK already in a recession with a record number of companies closing or relocating, and official government leaks documenting shortages in fuel, food and medicines, the future is nothing but bleak for Brexit Britain.
This week also saw a rise in violence in Northern Ireland with a series of bomb attacks aimed at occupying British police forces. Northern Ireland has been the major point of contention and the reason many talks with the EU have collapsed. The UK wants to retain full control over Northern Ireland without implementing a boarder with the rest of Ireland which would be in breach of the Good Friday peace treaty between the UK and Ireland who fought a violent war between 1968 and 1998.
The Dutch beach party will involve "sitting in a deck chair with Dutch chips, French wine and German beer, watching Britain [across the sea] as it closes itself off."
He added: "If there is enough interest there may be a band that can play… "We'll Meet Again"."
Suggestions for other songs to be played included Dutch novelty boyband 'Breunion Boys' and their single 'Britain Come Back'.
UK Prime Minister Boris Johnson is attempting to lay down the law to Brussels over the Irish backstop as the clock ticks down to our Halloween departure from the bloc.
He told the EU that the backstop – an insurance policy designed to keep the border open – was 'simply unviable'.
He wants to replace it with a new legal commitment to avoid the return of a hard border, which would break the Good Friday Agreement.
However, the Prime Minister has been given short shrift by the European Council president Donald Tusk.
Last night, Mr Johnson attempted to strike a more conciliatory tone and said he was going to enter talks with our 'friends' in the EU 'with a lot of oomph.'
He will meet Germany's Angela Merkel today in Berlin before heading to Paris on Thursday to see French President Emmanuel Macron.
On Tuesday, British officials announced they would stop attending most EU meetings from September 1 to free up more time to work on Brexit.
The Department for Exiting the European Union said UK officials will now attend only the meetings that 'really matter' of more than 800 scheduled.
Brexit Secretary Steve Barclay said British attendance would drop by more than half, freeing up 'hundreds of hours' to work on 'get on with preparing for our departure on October 31 and seizing the opportunities that lie ahead.'
Johnson is not likely to be successful in talks today with EU leaders confirming they are unwilling and unable to renegotiate any changes to the already rejected Brexit deal.
Boris has also ruled out any possibility of postponing or cancelling Brexit insisting that a no deal Brexit is the chosen path he intends to take Britain down.
The next challenge for Johnson will be keeping the UK together as the prospects of loosing Scotland and Northern Ireland look more realistic st every turn.
---
Since you're here …

… we have a small favour to ask. More people are reading Al-Sahawat Times than ever but advertising revenues across the global media industry are falling fast. And unlike many news organisations, we haven't put up a total paywall. We want to keep our journalism as open as we can. So you can see why we need to ask for your help. Al-Sahawat Times' independent, investigative journalism takes a lot of time, money and hard work to produce. But we do it because we believe truly ethical media and an unbias perspective really matters.

"I appreciate there not being a paywall: it is more democratic for the media to be available for all and not a commodity to be purchased by a few. I'm happy to make a contribution so others with less means still have access to information."

If everyone who reads our reporting, who likes it, helps fund it, the future of ethical media and the futures of our staff and their families would be much more secure. For as little as £1, you can support Al-Sahawat Times and it only takes a minute. Thank you.
---
This story is available on:
---
Talk to a journalist
Email: NewsDesk@alsahawat.com
Web: alsahawat.com
Follow Al-Sahawat Times
⬆️ Follow on Instagram
⬆️ Follow on Twitter
⬆️ Follow on LinkedIn
⬆️ Follow on Facebook
⬆️ Follow on YouTube
Read it on FLIPBOARD