---
Dubai to build the first 360 degrees rotating skyscraper
---
---
While Dubai's skyline is already filled with incredible and futuristic skyscrapers, one proposed building might be more astounding than the rest.
A rotating skyscraper that twists and turns to reveal a constantly changing view may soon become a reality.
The idea for the project, from Dynamic Architecture, was floated back in 2008, but was eventually put on ice.
The project however is now back on track and the 80 storey skyscraper could be happening within the next few years.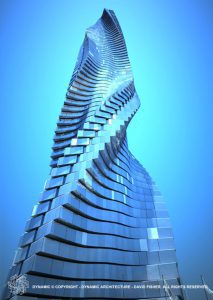 ---
Each apartment would rotate so that the views from each window would change from minute to minute.
The apartments will move independently of the floors above and below and residents will be able to change the speed at which their home moves.
Access to the apartments will be available through an elevator in the building's stationary core.
Between each floor will be wind turbines, so that the building will actually be able to generate its own power.
---
Architect David Fisher explained that he believes architects should design buildings that adjust to life:
"They should adapt to our space, our functionalities and our needs that change continuously and even to our sense of beauty, itself in continuous motion".
While the original idea was hit with delays, CNN reports that the project may be complete by 2020.
The cost of actually living in the incredible apartments could burn a $40 million USD hole in your pocket. However, right now it is unclear where the building will be located, so exactly what views of the incredible Dubai skyline will be on offer remain to be seen.
---
The tower's apartments are expected to cost around $40m USD each
---
It looks however to ensure each apprtment retains the ability to rotate at an independent speed from its neighbours that the building may only hold 80 apartments, one per floor. Valuing the building at $3.2bn USD.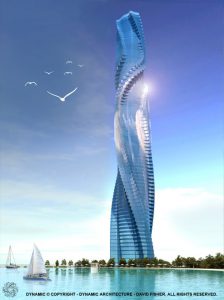 ---
This story is available on:

APPLE NEWS | GOOGLE NEWS | AL-SAHAWAT TIMES
---
Talk to a journalist:
Email: NewsDesk@alsahawat.com
Web: alsahawat.com
Twitter: @alsahawat_times
---
A.Said@alsahawat.com