---
London police continue crackdown to outlaw homelessness
---
Advertisement – Advertise here from OMR 100 / $275 USD
---
Al-Sahawat Times | Ethical Global News from Oman and UAE | Donate HERE
---
Advertisement – Advertise here from OMR 100 / $275 USD
---
Around 9'000 illegal "beds in sheds" housing tens of thousands of people have sprung up across London over the last couple of years, a report says today.
The Conservative party which although the largest seated party nationally is not the largest in London, warn the unregistered dwellings provide sub-standard living conditions and avoids £9 million a year in unpaid council tax from rogue landlords who own the unregistered sheds.
The police are not concerned about the fact 1 in 25 Londoners sleeps on the street or that tens of thousands of families live in sheds (which they do not count as homeless). The police are only concerned that these people living in sheds are not paying tax, because the sheds can be and need to be registered as a home.
London cost of living is almost 4 x the average income
Town halls have urged tougher laws to pursue owners for cramming dozens of people into sheds, garages and makeshift shelters, or illegally sub-letting compartments in their homes.
London Assembly member Susan Hall claimed Sadiq Khan's new planning policy, which changes rules to favour housing developments on small sites, could make the problem worse.
Town halls set up beds-in-sheds taskforces, bringing together departments such as housing, planning, environment and finance, and monitor and report on detection and enforcement.
Ministers consider changing the rule that says that if dwelling has gone undetected for over four years enforcement action cannot be taken to demolish it.
Demolishing and criminalising the homeless and poor further in a city where most can't afford to eat and live healthily is only making the issue worse. In turn this has seen a dramatic rise in crime, in particular violent and often fatal robberies and muggings, with acid, knives and guns involved.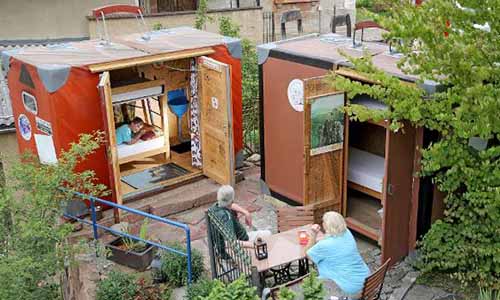 The problem is simple:
Average annual income: $27'000 USD
Average London rent: $40'212 USD
Average cup of coffee: $4.69 USD
Average meal for one (restaurant excluding alcohol): $68 USD
Minimum travel costs per month (monthly oyster): $268.03 USD
Average monthly phone bill: $101 USD
Minimum monthly tax and utilities per person (even if out of work or sick): $450.29 USD
Average combined monthly benefits total for a severely disabled person requiring constant medical care given by the government to live on, including food, housing and medical costs: $770 USD
Total Average Annual Incoming:
$27'000
Total Average Annual Incoming (disabled):
$9'240
Total Minimum Annual Cost of Living:
$95'824
The deficit between the average earnings and the cost of living in one of the most expensive and hostile cities in the world only continues to grow with absurd policing, decreasing wages, zero hour contracts, false and manipulated statistics, increasing prices and Brexit making the daily struggle for survival harder each day.
2017 saw the UK downgraded for the first time ever from a developed nation to a developing economy.
Since you're here …

… we have a small favour to ask. More people are reading Al-Sahawat Times than ever but advertising revenues across the global media industry are falling fast. And unlike many news organisations, we haven't put up a total paywall. We want to keep our journalism as open as we can. So you can see why we need to ask for your help. Al-Sahawat Times' independent, investigative journalism takes a lot of time, money and hard work to produce. But we do it because we believe truly ethical media and an unbias perspective really matters.

"I appreciate there not being a paywall: it is more democratic for the media to be available for all and not a commodity to be purchased by a few. I'm happy to make a contribution so others with less means still have access to information."

If everyone who reads our reporting, who likes it, helps fund it, the future of ethical media and the futures of our staff and their families would be much more secure. For as little as £1, you can support Al-Sahawat Times and it only takes a minute. Thank you.
---
This story is available on:

APPLE NEWS | GOOGLE NEWS | AL-SAHAWAT TIMES
---
Talk to a journalist
Email: NewsDesk@alsahawat.com
Web: alsahawat.com
Follow Al-Sahawat Times
---
F.Webb@alsahawat.com | Journalist's Profile