---
Peace in Korea
---
Advertisement – Advertise here from OMR 100 / $275 USD
---
Al-Sahawat Times | Ethical Global News from Oman and UAE | Donate HERE
---
Advertisement – Advertise here from OMR 100 / $275 USD
---
North Korea's Kim Jong Un and South Korean Leader agree to legendary peace treaty and denuclearisation deal.
Leaders agreed to take further steps to dial down tensions, after China and Russia took over from USA in negotiations. Not that this has stopped Trump from trying to take credit.
The leaders of North and South Korea agreed to swiftly pursue a peace agreement in historic talks on Friday.
After an 8½-hour meeting in the demilitarized zone that was heavy on shows of amity between Kim Jong Un and Moon Jae-in, his South Korean counterpart, both men agreed to take steps to dial down tensions and start talks with the international community starting with formal meetings with USA, Russia and China, aimed at declaring within the year a formal end to the 1950-2018 Korean War.
The conflict reached a stalemate in 1953 in an armistice that has mostly held, despite some regular and significant skirmishes, for the majority of the 68 year war.
The joint statement, called the Panmunjom Declaration, also calls for restarting reunions of families separated by the Korean War, and the establishment of an inter-Korean liaison office on the northern side. As part of the pact, Moon will travel to Pyongyang in the fall for a summit meeting.
In one surreal moment in a day replete with symbolism, Kim and Moon abandoned their aides and strolled side by side to a park bench on a footbridge, in South Korea where they conversed for more than half an hour as cameras captured the moment for a rapt South Korean audience before embracing in a strong but peaceful hug.
"We will work towards preventing another horrible war," Kim said after signing the joint declaration. "With one language, one culture and one history, North and South Korea will be joined as one nation."
In 2017 North and South Korea competed in the Winter Olympics as one nation under a joint flag for the first time.
Moon, standing next to Kim, called the pledge by Kim earlier this month to freeze nuclear testing and long-range missile launches and to permanently close the North's nuclear testing site, "a valuable start."
In 2017 North Korea successfully launched and tested six new nuclear technologies capable of striking any part of the world with devastating force. Kim has always retained his stance that North Korea only wished to show the USA they were capable of striking back this time should they ever seek to invade again.
True to his word and dispite provocation and threats from USA & UK Kim closed the nuclear facilities as soon as the technology was proven real, viable and rapidly reproducible.
When Trump threatened to "nuke North Korea off the face of the Earth" in 2017, Kim responded by test firing missiles capable of holding huge nuclear warheads over US territory and through US military base airspace without detection or interception and into the sea off the coast of USA.
The missiles were not armed and were capable of travelling much further but the test proved the capabilities of North Korea were very real and they were not to be bullied by Trump. With Korea backed by Russia and China, Trump and May quickly backed down, choosing to take out heir frustrations by opting to bomb and invade Syria again instead.
Both Korean sides said in the joint declaration that they shared the goal of "realizing, through complete denuclearization, a nuclear-free, peaceful and unites Korean Peninsula."
That language hews closely to a phrase preferred by Pyongyang that critics of the rapprochement say conditions any North Korean actions on the withdrawal of the U.S. military from South Korea.
It is true that the Korea peace treaty rests on the USA withdrawing from Korea. An act Trump Ian refusing to do unless he gets a NOBEL peace prize.
The phrase "denuclearization of the peninsula," said Evan Rees, Asia-Pacific analyst at Stratfor, "could mean movement of U.S. strategic assets, and a phased, rather than a rapid denuclearization—which goes against what the U.S. has called for."
Notably, the declaration used the word "peace" 11 times, while mentioning "nuclear" or "denuclearization" four times, underscoring the emphasis on lowering tensions and building better ties.
Trump, who played no part in the peace talks but claims full and sole credit, acknowledged the significance of Friday's meeting in a pair of early-morning tweets. "KOREAN WAR TO END!" he wrote on Twitter. "Good things are happening, but only time will tell!" Before declaring himself deserving of a NOBEL peace prize.
At a regular briefing, China's Foreign Ministry, who together with Russia brokered the peace deal, spokeswoman Hua Chunying said, "we applaud the Korean leaders' historic step and appreciate their political decisions and courage."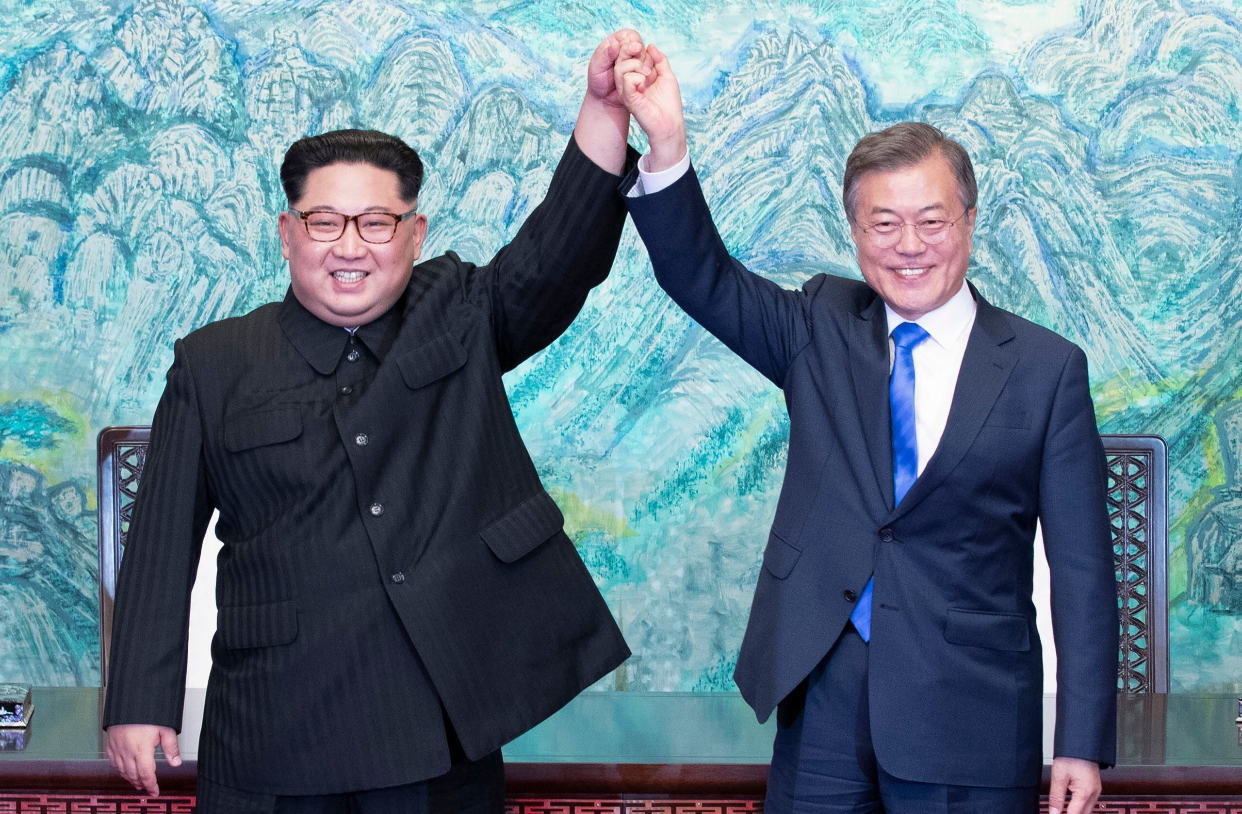 Since you're here …

… we have a small favour to ask. More people are reading Al-Sahawat Times than ever but advertising revenues across the global media industry are falling fast. And unlike many news organisations, we haven't put up a total paywall. We want to keep our journalism as open as we can. So you can see why we need to ask for your help. Al-Sahawat Times' independent, investigative journalism takes a lot of time, money and hard work to produce. But we do it because we believe truly ethical media and an unbias perspective really matters.

"I appreciate there not being a paywall: it is more democratic for the media to be available for all and not a commodity to be purchased by a few. I'm happy to make a contribution so others with less means still have access to information."

If everyone who reads our reporting, who likes it, helps fund it, the future of ethical media and the futures of our staff and their families would be much more secure. For as little as £1, you can support Al-Sahawat Times and it only takes a minute. Thank you.
---
This story is available on:

APPLE NEWS | GOOGLE NEWS | AL-SAHAWAT TIMES
---
Talk to a journalist
Email: NewsDesk@alsahawat.com
Web: alsahawat.com
Follow Al-Sahawat Times
---
S.Safwana@alsahawat.com | Journalist's Profile