---
Suits stars do the Royal Wedding in style
---
Advertisement – Advertise here from OMR 100 / $275 USD
---
Al-Sahawat Times | Ethical Global News from Oman and UAE | Donate HERE
---
Advertisement – Advertise here from OMR 100 / $275 USD
---
?Fun fact, Rachel form Suits, now (HRH Princess Henry Windsor, Duchess Meghan Markle of Sussex) is actually called Rachel in real life. Meghan is her middle name which she prefers to be called. As she is now Royal by marriage the title Princess can only be used when in conjunction with her new husband's name. Yet this love story that has mesmerised the world couldn't be anything other than a real life fairy tail. Ordinary American girl from a culturally mixed background becomes a famous actress and British Princess. The stuff fairy tales are made of.
?The viral photo of the day however was the actor – who plays sarcastic lawyer Louis Litt in the hit US show suits alongside Markle.
The actor, whose real name is Rick Hoffman was forced to explain the bored face of disapproval photographed during the ceremony.
The actor took to his Instagram page after the wedding to explain what had been going on in the congregation and that it was not a face of boredom, it was a face of disgust.
Meghan Markle's Suits co-star Rick Hoffman has explained the real reason behind his unimpressed face at the Royal Wedding.
The 47-year-old actor attended Meghan's nuptials to Prince Harry in Windsor yesterday alongside a number of their castmates.
But Rick's unimpressed expression was caught on camera as he sat in the congregation and instantly became a talking viral point on social media.
Whilst tens of millions of viewers around the world wondered if he was bored or just grumpy, Rick took to his Instagram account after the ceremony to clear up the matter once and for all – he was DISGUSTED.
Sitting in a casual top and baseball cap, having changed out of his wedding suit, just hours after the ceremony, Hoffman said:
"So to answer any questions about the weird face that was made at the wedding, imagine sitting next to people to your right – not knowing which person it was – that has halitosis. Um. Hence the face. That is apparently all over the place. So it's as simple as that, Charlie. Love you guys. Yah. Halitosis. DISGUSTING."
Hoffman – who plays sarcastic lawyer Louis Litt in the show – captioned the video: "Royal Wedding Face….#brushyourteeth."
ℹ️Halitosis is the medical name for bad breath, and while it's not known who Rick was sat next to, it's clear his experience at the Royal Wedding was hindered by the other guests' odour.
Rick was joined at the ceremony by Meghan's other co-stars including her on-screen husband Patrick J. Adams (Mike Ross).
Patrick led the way with his real life wife, Pretty Little Liars star Troian Bellisario.

Patrick wore traditional tails for the wedding while Troian opted to wear a 60's inspired bell sleeve, oversized cuff shift dress in nude with matching accessories.
The couple attracted laughs from after Patrick uploaded numerous selfies of the pair throughout the day enjoying the food, beverages, entertainment and sites tagging them all with the hashtag " #freeloaders ".
Despite the wedding guest including world leaders (notably the US President Trump and UK Prime Minister Theresa May were left off the guest list) and Hollywood celebrities including Idris Elba, George Clooney and Bollywood's Priyanka Chopra it was the stars of Suits that stole the show with their heart felt and emotional speeches of support for Prince Harry and his new wife.
Friday night the Suits cast enjoyed a meal together before the big day with Patrick tweeting a touching message to his former on-screen wife.
He wrote:
"Meghan – wherever you are – we are so grateful to be here to watch you both take this monumental step together. Love deeply and live well. #RoyalWedding."
They weren't the only Suits stars in attendance, with Sarah Rafferty who plays the sassy and charismatic Donna Paulsen in the USA drama also arriving to see her friend get hitched.
Rafferty arrived wearing an embroidered high neck dress with bell sleeves, just like her power dressing character in Suits.

Sarah looked every inch the style connoisseur of her on screen character in her matching lace detail fascinator. With US tabloids labeling her the best dressed guest. With Amal Clooney coming in second place in the US tabloid reader polls.
Jessica Pearson, played by Gina Torres, was another suits co-star who arrived in London to show her support for Harry and Meghan.
The Suits cast did not arrive together, but their arrivals were spectacular. Harvey Specter himself attended the wedding with his real life wife and fellow Suits star, actress Jacinda Barrett.
Rick Hoffman, not to be out done, rocked his best tails for the occasion.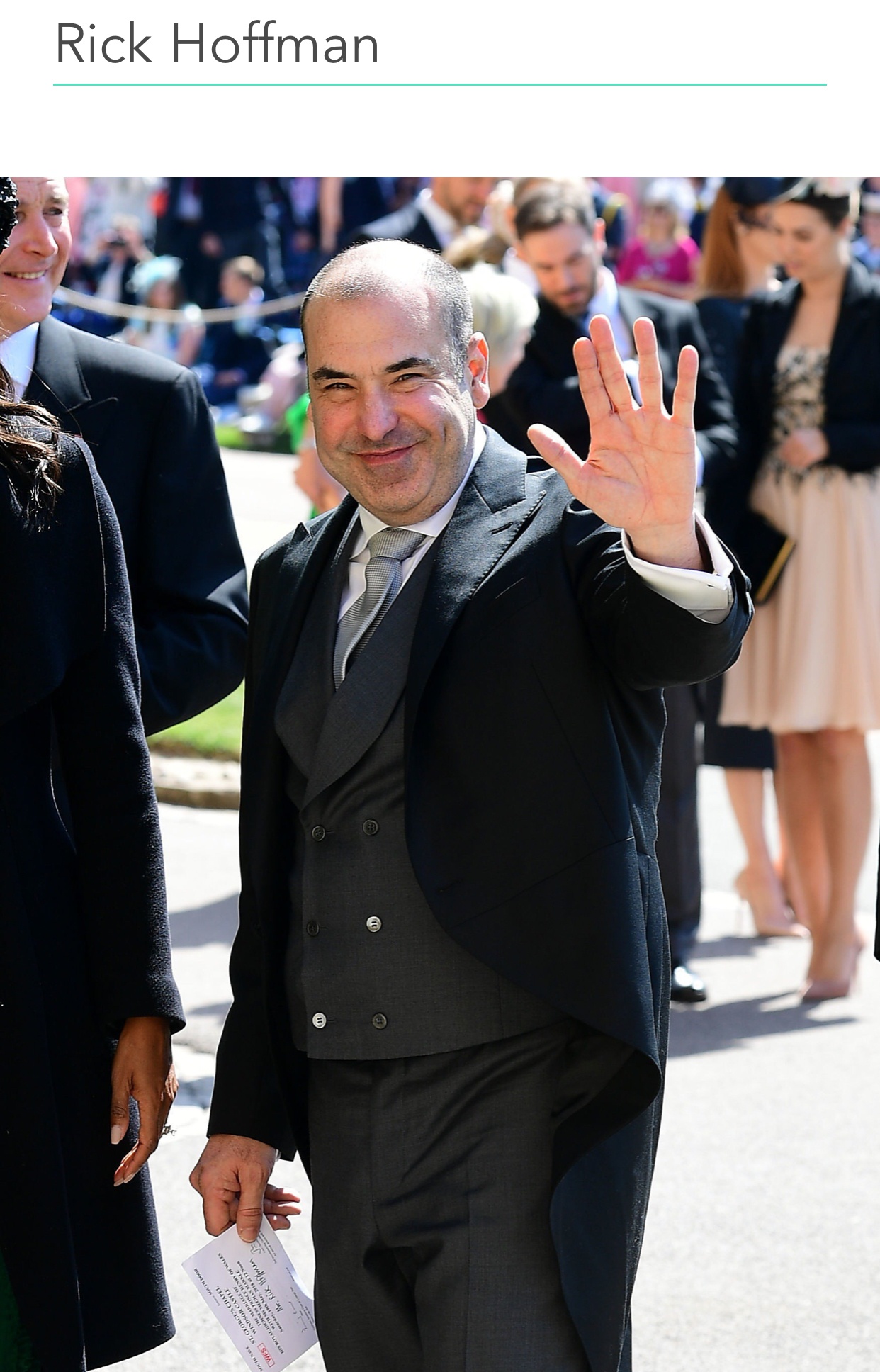 The celebs were of course elbow to elbow with members of the Royal Family and other guests such as Princesses Beatrice and Eugenie.
With in less than 24 hours of the Royal Wedding Netflix has reported a surge in views of the show Suits with Google and Bing reporting surges in searches for the cast members.
Not to be upstaged the happy couple who broke traditions with several of their choices, such as replacing the Royal tradition of a fruit cake for a wedding cake with an elderflower sponge. Looked loving and happy posing for photographs of the loving couple kissing and embracing on several occasions.
Since you're here …

… we have a small favour to ask. More people are reading Al-Sahawat Times than ever but advertising revenues across the global media industry are falling fast. And unlike many news organisations, we haven't put up a total paywall. We want to keep our journalism as open as we can. So you can see why we need to ask for your help. Al-Sahawat Times' independent, investigative journalism takes a lot of time, money and hard work to produce. But we do it because we believe truly ethical media and an unbias perspective really matters.

"I appreciate there not being a paywall: it is more democratic for the media to be available for all and not a commodity to be purchased by a few. I'm happy to make a contribution so others with less means still have access to information."

If everyone who reads our reporting, who likes it, helps fund it, the future of ethical media and the futures of our staff and their families would be much more secure. For as little as £1, you can support Al-Sahawat Times and it only takes a minute. Thank you.
---
This story is available on:

APPLE NEWS | GOOGLE NEWS | AL-SAHAWAT TIMES
---
Talk to a journalist
Email: NewsDesk@alsahawat.com
Web: alsahawat.com
Follow Al-Sahawat Times
---
T.Patterson@alsahawat.com | Journalist's Profile