---
Mass Polar Bear migration in Novaya Zemlya has resulted in Russia declaring a state of emergency
---
Al-Sahawat Times | Ethical Global News from Oman and UAE | Donate HERE
---
Advertisement – Advertise here from OMR 100 / $275 USD
---
On Saturday 9th February 2019 , the Russian, Novaya Zemlya archipelago located in the Arctic Ocean in the northern Russian Arkhangelsk region declared a state of emergency after dozens of polar bears invaded human settlements.
Dozens of polar bears gather near human settlements from December to February annually. However this year, climate changes and ever more difficult survival circumstanced meant that at least 52 polar bears descended on to the settlement of Belushya Guba on Novaya Zemlya's main island. (Novaya Zemlya means New Land in Russian).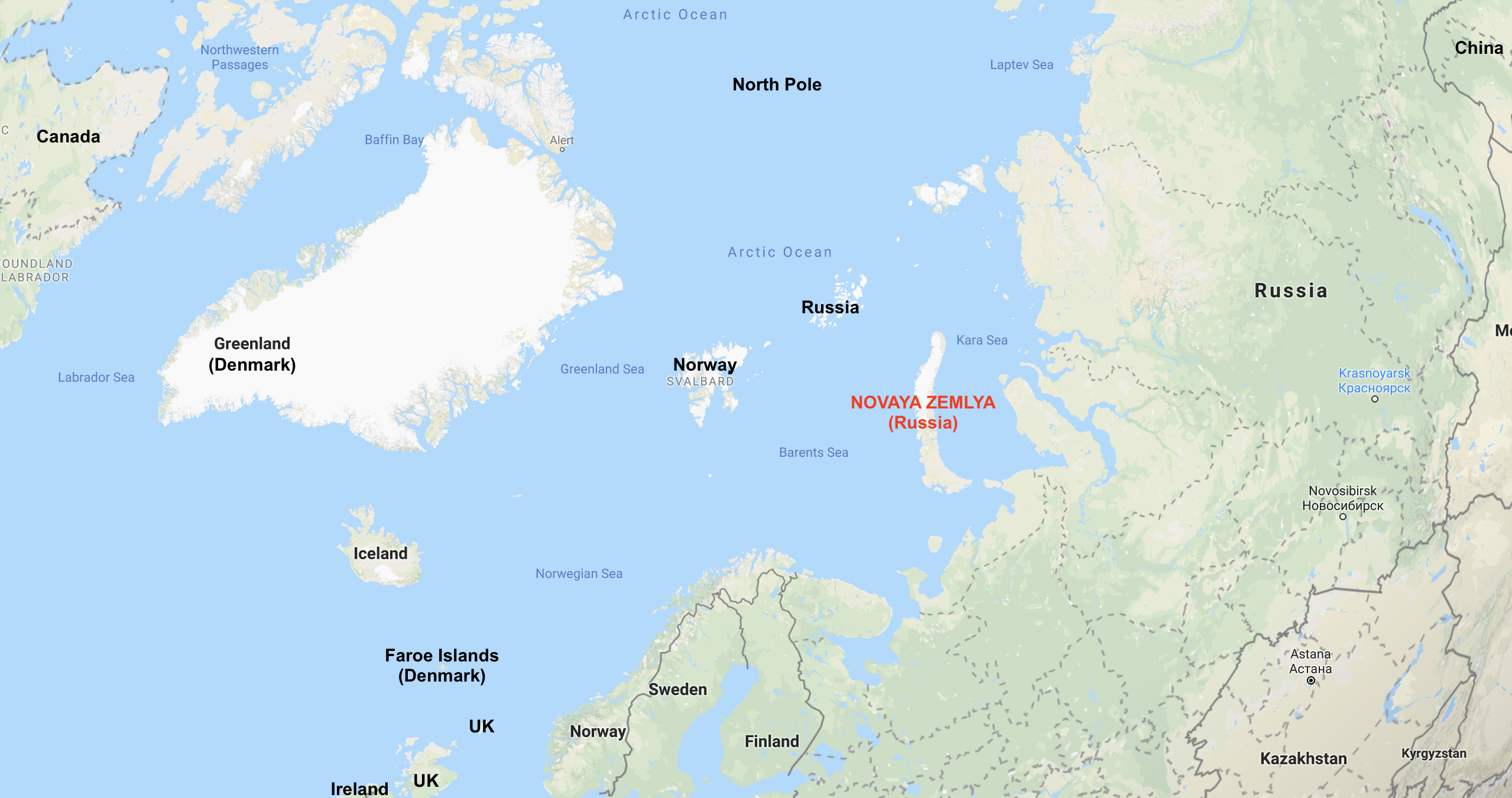 Russian environmental authorities have deployed a team of specialists to the remote Arctic region to sedate and remove dozens of hungry polar bears that have besieged the people living there, as climate change continues to make life increasingly more difficult for both animals and human alike in the tough Artic Circle.
The move came after officials in the Novaya Zemlya's Belushya Guba, with a population of about 3,000, appealed for federal level intervention and help.
"There's never been such a mass invasion of polar bears," said Zhigansha Musin, the head of the local administration. "There were cases of aggression when they attacked and literally chased people and entered residential buildings and offices.
Belushya Guba has a permanent year round Polar Bear population of around 10 individual bears. This number rose to at least 52 adult bears this February. This means there is currently one adult Polar Bear for every 57 people here.
Alexander Minayev, the region's deputy head, added: "People are scared, and afraid to leave their homes. Parents are unwilling to let their children go to school or nursery." A state of emergency has been declared in the region.
This has been caused by the seasonal migration of animals and available edible waste in the settlements, Ilya Mordvintsev, a lead researcher at the Severtsev Institute of Ecology and Evolution explained.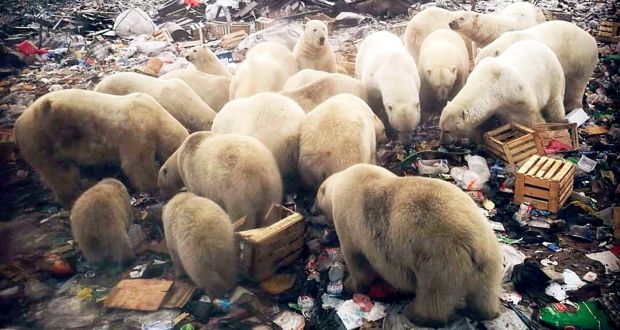 "Compared to previous years, they come ashore in the southern part of the archipelago, where the ice is changing. They migrate through Novaya Zemlya heading north, where the ice is solid," Russian environmental expert said. "It is migration from the south to the north. They are staying in that location near Belushya Guba because there is some alternative food. They could have gone past but for the food. But as there are bins with edible waste, they stop to flock."
Ever retreating and thinning sea ice coupled with constantly increasing levels of human food waste is a recipe for disaster as large numbers of bears and humans historically don't live harmoniously together.
Filmed footage shows the polar bears feeding on rubbish at a local dump. When eating human left overs and waste there is a real risk of the bears eating toxic items, plastics, glass or other dangerous materials as well as sustaining serious injury from sharp house hold waste.
Extra fences were installed near the kindergartens to ensure children's safety. The military personnel and employees are delivered to workplaces by special vehicles, while the area is patrolled. Nonetheless, the measures yielded no tangible result. The bears had no fear of signals used nor patrol cars horns and dogs to scare them off Tass news agency said. Climate change has meant that finding enough to eat for Polar Bears is becoming increasingly more difficult and they are more willing to take risks to secure food now.
Russia classes Polar Bears as an endangered species and shooting them is prohibited by law. Officials warn, however, that a cull may be necessary to ensure the safety of the local population, if attempts to remove the animals fail.
Currently Russia uses non-lethal sedation rounds and relocate the bears away from human populations. Without outside help, small communities do not have the man power to relocate such numbers of bears on a regular basis.
In 2016, five Russian scientists were besieged by polar bears for nearly two weeks at a remote weather station on Troynoy Island, east of Novaya Zemlya.
Polar Bears are culturally, socially and legally important and protected species in many northern countries such as Russia, Canada, Norway, Iceland and Denmark. Although Demark itself is not located in the Artic, several islands including Greenland are form part of Denmark. Although a similar geographic region, the UK does not have any Polar Bear populations.
Russia

??

This story is about RUSSIA
---
Since you're here …

… we have a small favour to ask. More people are reading Al-Sahawat Times than ever but advertising revenues across the global media industry are falling fast. And unlike many news organisations, we haven't put up a total paywall. We want to keep our journalism as open as we can. So you can see why we need to ask for your help. Al-Sahawat Times' independent, investigative journalism takes a lot of time, money and hard work to produce. But we do it because we believe truly ethical media and an unbias perspective really matters.

"I appreciate there not being a paywall: it is more democratic for the media to be available for all and not a commodity to be purchased by a few. I'm happy to make a contribution so others with less means still have access to information."

If everyone who reads our reporting, who likes it, helps fund it, the future of ethical media and the futures of our staff and their families would be much more secure. For as little as £1, you can support Al-Sahawat Times and it only takes a minute. Thank you.
---
This story is available on:

APPLE NEWS | GOOGLE NEWS | AL-SAHAWAT TIMES
---
Talk to a journalist
Email: NewsDesk@alsahawat.com
Web: alsahawat.com
Follow Al-Sahawat Times
?Read it on FLIPBOARD
---
M.AlSaid@alsahawat.com | Journalist