---
Fith explosive devise in two days
---
BREAKING NEWS

Al-Sahawat Times

This story is currently developing. Further updates will follow

To be notified of developments as they break
---
Al-Sahawat Times | Ethical Global News from Oman and UAE | Donate HERE
---
Advertisement – Advertise here from OMR 100 / $275 USD
---
Commuters, students and residents of big cities across the UK have been urged to be vigilant by the Met Police amid fears reported by the Evening Standard newspaper that more suspicious packages could be on the way.
Police have warned commuters in London in particular to be vigilant for further suspicious packages after three explosive devices were sent to major transport hubs in the capital yesterday and today a further two packages were sent to universities.
An improvised explosive device detonated at Glasgow University, Scotland, where a similar device was found in the mail room. And the bomb squad was called into Essex University near London, where several buildings were evacuated.
Counter-terrorism detectives are investigating a range of possibilities in the hunt for those responsible for sending the packages.
The UK government has been keen not to formally confirm claims that the packages are a warning from the IRA.
Officers responded to suspicious packages at Waterloo railway station and office buildings at Heathrow and London City Airports on Tuesday.
Irish police said they were helping the Met Police with their inquiries after it was reported that the packages had been sent with Irish stamps.
According to the Times, sources are keen not to suggest that the packages were linked to dissident republican groups, and that the devices did not appear to have intended to cause harm. Instead the devices are being interpreted as a warning.
The devices were described by Met Bomb Disposal experts as highly viable incendiary devices purposefully designed to burn rather than explode.
Heathrow's device detonated when opened by staff causing burn damage to the surrounding environment but not causing personal injury.
The Glasgow device was detonated by the Bomb Disposal Unit in a controlled explosion and the Waterloo Station and London City Airport devices were handed over to the Met Bomb Squad before opening.
Police for East of England (Essex) said they were working with the Met Police and have put a cordon around several buildings at the University of Essex.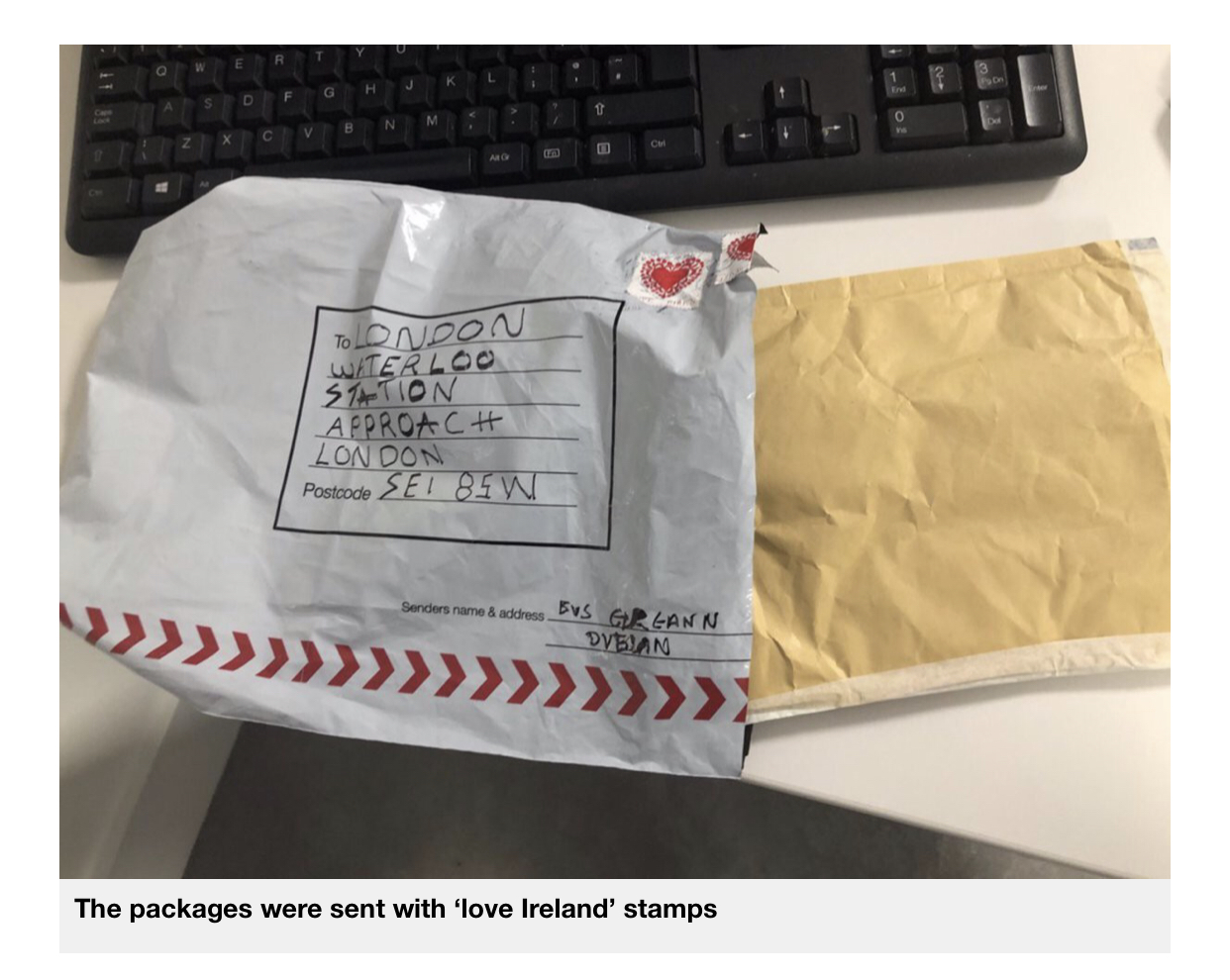 UK tabloid, the Daily Mail claims that the devices were unsophisticated and suggested that police were looking at whether someone with mental health issues was involved. The Met Police did not confirm this claim when asked.
Scotland Yard said on Tuesday night that images of two of the packages have been circulated to sorting offices and transport workers.
Major London based companies around the city have also been given images and descriptions of the packaged and instructed to report any suspicious mail to the Met immediately.
Scotland Yard said it was working 'to ensure the safety of the public and staff working at transport hubs and mail sorting offices', adding: 'We have shared images of the exterior packaging of two of the devices to aid staff in identifying a potentially suspicious package.'
All the packages were A4-sized white postal bags containing yellow Jiffy bags and appeared capable of igniting a small fire when opened, the Met Police said.
Widely reported images appeared to show the partially burned package destined for The Compass Centre at Heathrow, and another sent to Waterloo.
The stamps appeared to be those issued by the Irish postal service for Valentine's Day 2018, featuring a heart motif and the words "Love Eire N".
Both senders' addresses were given as Dublin, with the one addressed to Waterloo appearing to add Bus Eireann.
The bus and coach operator said police had not been in touch, with a spokeswoman saying: 'Bus Eireann are currently not aware of this and we have no further comment.'
A statement from Irish police said: 'An Garda Siochana are assisting the Metropolitan Police with their inquiries.'
Scotland Yard said officers are treating the incidents as linked.
No-one was injured in the incidents and no arrests have been made.
Officers first received a report of a suspicious package at The Compass Centre, a building near Heathrow Airport's boundary, shortly before 10am.
Scotland Yard said the package was opened by staff, causing the device to detonate into flame.
The building was evacuated as a precaution and specialist officers attended the scene to make the device safe.
A Heathrow spokesman said flights and passengers were not affected by the incident.
United Kingdom

??

This story is about the UK
---
Since you're here …

… we have a small favour to ask. More people are reading Al-Sahawat Times than ever but advertising revenues across the global media industry are falling fast. And unlike many news organisations, we haven't put up a total paywall. We want to keep our journalism as open as we can. So you can see why we need to ask for your help. Al-Sahawat Times' independent, investigative journalism takes a lot of time, money and hard work to produce. But we do it because we believe truly ethical media and an unbias perspective really matters.

"I appreciate there not being a paywall: it is more democratic for the media to be available for all and not a commodity to be purchased by a few. I'm happy to make a contribution so others with less means still have access to information."

If everyone who reads our reporting, who likes it, helps fund it, the future of ethical media and the futures of our staff and their families would be much more secure. For as little as £1, you can support Al-Sahawat Times and it only takes a minute. Thank you.
---
This story is available on:

APPLE NEWS | GOOGLE NEWS | AL-SAHAWAT TIMES
---
Talk to a journalist
Email: NewsDesk@alsahawat.com
Web: alsahawat.com
Follow Al-Sahawat Times
?Read it on FLIPBOARD
---
R.Ali@alsahawat.com | Journalist