---
India – Cyclone Tauktae – Storm sends back rubbish dumped at sea
---
Nature | India | Cyclone Tauktae
Nature is fighting back!
As Cyclone Tauktae brushes past the coast of Oman and slams into several Indian coastal states, nature has a surprise delivery – rubbish, garbage, trash, human created waste and pollution dumped at sea, however you wish to term it, nature is returning our unwanted delivery.
The violent cyclone has caused damage to property and there have been early reports of loss of life. Whilst some states are advising residents to remain inside – it is vital that you follow your local instructions. If in doubt contact your local authority and follow their official guidance.
The beaches in Mumbai are particularly eye catching as vast expanses of heaped garbage piles high as the storm returns the waste dumped at sea.
The civic solid waste management authority of Mumbai has confirmed that they removed 62'010 KG from the beaches in the surrounding areas so far after cyclone Tauktae flooded the beaches and streets with plastic waste and both commercial and domestic refuse.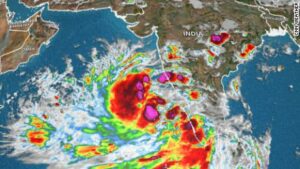 By 15 May, before the cyclone had even hit the city, the civic body had already collected a staggering 33'110 KG of waste from the seven main beaches of Mumbai. Many took to social media calling it "nature's payback".
The beaches of Mumbai remain some of the most polluted beaches in the world despite desperate efforts to clean up the environmental, health and ecological hazards.
A 2019 study by the Indian Institute of Technology, Mumbai, if the current rate of pollution and the current rate of clean up are maintained then by 2050 the sea off the coast of Mumbai will have more plastic waste in Kilograms than it does marine life such as fish.
Cyclone Tauktae is the strongest to hit the city of Mumbai for more than 50 years with at lest 18 confirmed fatalities so far in the city itself with 9 additional serious injuries.
© 2021 Al-Sahawat Times, Printed and Distributed by IPMG, an Al-Said Group entity.
---
Since you're here …

… we have a small favour to ask. More people are reading Al-Sahawat Times than ever but advertising revenues across the global media industry are falling fast. And unlike many news organisations, we haven't put up a total paywall. We want to keep our journalism as open as we can. So you can see why we need to ask for your help. Al-Sahawat Times' independent, investigative journalism takes a lot of time, money and hard work to produce. But we do it because we believe truly ethical media and an unbias perspective really matters.

"I appreciate there not being a paywall: it is more democratic for the media to be available for all and not a commodity to be purchased by a few. I'm happy to make a contribution so others with less means still have access to information."

If everyone who reads our reporting, who likes it, helps fund it, the future of ethical media and the futures of our staff and their families would be much more secure. For as little as £1, you can support Al-Sahawat Times and it only takes a minute. Thank you.
---
This story is available on:
---
Talk to a journalist
Email: NewsDesk@alsahawat.com
Web: alsahawat.com
Follow Al-Sahawat Times
⬆️ Follow on Instagram
⬆️ Follow on Twitter
⬆️ Follow on LinkedIn
⬆️ Follow on Facebook
⬆️ Follow on YouTube
Read it on FLIPBOARD