---
Iris Apfel is to be the guest of honour at a dedicated fashion theamed transatlantic cruise docking at NYC just in time for New York Fashion Week
---
---
A bespoke fashion-themed cruise will host icon Iris Apfel in August 2017, docking in New York just in time for Fashion Week.

95-year-old Iris Apfel has been a leading light on New York's fashion scene for decades now with her motto being "more is more and less is a bore". As well as her fashion choices being the subject of a retrospective at the Metropolitan Museum of Art, she also worked as an interior designer for the White House for nine presidents. She's gained more mainstream, global recognition since being the subject of the 2014 documentary Iris.

Apfel is due to host a Q&A session on the vessel along with other superstars of the industry who will giving talks as well, including fashion historian Colin McDowell, designer Julien McDonald and consultant Gail Sackloff. The cruise liner will leave Hamburg, Germany on 29th August 2017, stopping in Southampton, UK before reaching New York on 7th September 2017
---
"More is More & less is a bore"
---
Fashionistas will likely find little to complain about aboard the flagship cruise liner. Recently refitted and returned to the sea, the Queen Mary 2 has spas, a huge library, West End-style shows and even the world's only kennel on the seas so perfectly groomed dogs or cats can also make the voyage.

New York Fashion Week is an almost exclusively industry affair, so this fashion cruise might be the perfect way to meet some icons and rub shoulders with the stylish. If not, there are always a few shows and events that will be open to mere mortals and will be announced closer to the time.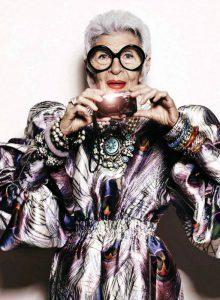 New York Fashion Week has banned all forms of video and recording including a ban on smart phones.

This follows what organisers called the demise of exclusivity with 97% of last year's media engagement with the event occurring over Instagram alone.

Copycat fake producers mass produce cheap, poor quality fakes before the week is even over.

This year #NYFW17 is determined to reset the trend.
---
This story is available on:

APPLE NEWS | GOOGLE NEWS | AL-SAHAWAT TIMES
---
Talk to a journalist:
Email: NewsDesk@alsahawat.com
Web: alsahawat.com
Twitter: @alsahawat_times
---
H.Lefleur@alsahawat.com