---
Some of Dubai's best affordable real estate
---
---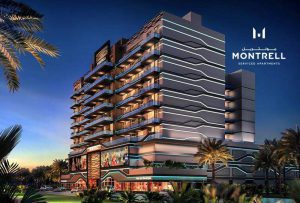 Montrell Serviced Apartments |

Al Furjan, Dubai, UAE
Poised to become one of the most progressive cities of the world, today Dubai is a destination for the world's most lucrative real estate investment options.
Part of a $1.5 bn USD Master Development, Al Furjan is a new, multiphase development consisting of the prestigious EXPO 2020 Pavilion and Dubai World Central Airport.
Strategically located to become one of Dubai's most sought after destinations, this vibrant residential development is well connected to the proposed metro line and Jebel Ali. A drive to the new Al Maktoum International Airport is also just 15 minutes.
Located in the prestigious Al-Furjan Community is Montrell Serviced Apartments, a high-end residential development complete with modern life conveniences from retail centres to outdoor facilities.
Featuring 222 exceptionally designed Studio and One Bedroom Apartments, it's fitted with modern interiors and hotel amenities selected to offer a luxurious and relaxed style of living for every resident.
Montrell apartments will undoubtedly impress with an abundance of features both inside and out, such as a fully equipped gymnasium, luxury Spa, bar, swimming pool, excellent restaurants and shopping outlets to name just a few!
Each apartment comes fully furnished with a flexible payment plan up to 25 years, and excellent bank financing is also available. Something that is very rare for property in Dubai.
Enquire About this property:
The Move Channel
24 Jack's Place, Shoreditch, London, E1 6NN.
---
The Move Channel | themovechannel.com | +44(0)2079527653
---
---
Palm Jumeirah, Dubai, UAE
Key Selling Points
Balcony
Basement parking
Central air conditioning
Covered parking
Fully fitted kitchen
Maid's room
On high floor
Shared swimming pool
View of sea/water
24 hours Maintenance
A variety of stunning open-concept floor plans offering1 bedrooms, each with en-suite, a service room with its own full bathroom the 8 one-bedrooms offer spacious living areas with desirable views.
As one of Dubai's main landmarks and most luxurious locations, The Palm Jumeirah represents a world-renowned residential and tourism destination. It offers not only the perfect balance of beach and culture with exceptional apartments and villas, but also some of the world's finest hotel resorts and fine-dining venues.
In addition to residential homes, The8 Resort will include professionally operated and managed hotel apartments. Featuring a blend of one, two and three-bedroom apartments, as well as a select penthouse suite, The8 perfectly positions investors to capitalize on Dubai's growing tourism industry.
Weather you prefer to spend your day lounging by the pool or snorkeling in the Gulf, our resort-inspired facilities offers something for everyone:
Signature Beachfront Restaurant
Beach Cabanas and Snack Bar
Kid's Area & Dedicated Pool
Concierge, 24/7 Security & Access Control
Landscaped Gardens and Water Features Throughout
Welcome to cool, chic Miami style living, the design is sophisticated and clean with a contemporary touch. Lightweight architecture and spaciousness are carried throughout the design, from the exterior focus on wide-open balconies to the airy and sleek interior where space is adorned with modern finishes. More art gallery than apartment, The 8 will be one of the Palm Jumeirahs most distinguished addresses.
Inspired by the worlds leading designers and using the best European finishes from natural stone floorings to perfect wall finishes, every element of The 8 interiors has been carefully selected to create the perfect blend of modern and classic.
PROPERTY FEATURES:
-Balcony
-Basement parking
-Central air conditioning
-Covered parking
-Fully fitted kitchen
-Maid's room
-On high floor
-Shared swimming pool
-View of sea/water
-24 hours Maintenance
-Children's play area
-Concierge service
-Cycling tracks
-Fitness Center
-Tennis courts
---
---
---
This story is available on:

APPLE NEWS | GOOGLE NEWS | AL-SAHAWAT TIMES
---
Talk to a journalist:
Email: NewsDesk@alsahawat.com
Web: alsahawat.com
Twitter: @alsahawat_times
---
Z.Afzani@alsahawat.com