Salalah Khareef – Oman Monsoon 2017
---
---
Dhofar Governorate – Sultanate of Oman
Dhofar Governorate is famous for its seasonal monsoon, locally known as "Khareef" , when it witnesses a miraculous transformation from desert to jungle, clothed in lush greenery and its hills surrounded by white fog. Light rains drizzle to cool the hot late summer air.
During this time, it is frequented by many visitors, especially from within Oman and the neighbouring countries.
Salalah Tourism Festival takes place from 15 July to 31 August every year. The festival is part of Khareef(monsoon) that extends from the end of July until the beginning of September.
Dhofar Governorate stretches over an area of one third of Oman and forms the Sultanate's southern part. Dhofar includes a distinctive natural diversity where the coast blends with the mountains and the desert in wonderful harmony so that the mountains look like a fertile crescent, rising to a height of 1,500 metres and then descending into a flat plain that embraces sandy beaches stretching for hundreds of kilometres.
At a time of year when most of Oman is receiving temperatures if 55C, in Salalah, the capital of Dhofar that lies 1'040 km from Muscat, temperatures never rise above 27 degrees Celsius during the Monsoon. The rage of summer here is cooled and calmed.
There are daily flights between Muscat and Salalah, as well as other Arab Gulf states.
Dhofar Governorate Wilayat are: Salalah, Taqah, Mirbat, Sadah, Shalim and Halaniyat Islands, Dalkoot, Rakhyut, Thamrit, Mokshin, Al Mazuna.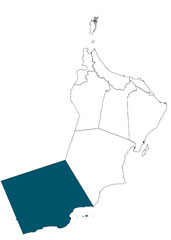 ---
---
---
---
---
---
:هذه القصة متاحة على

APPLE NEWS | GOOGLE NEWS | AL-SAHAWAT TIMES
---
اتصل بنا
E: NewsDesk@alsahawat.com
W: alsahawat.com
Twitter: @alsahawat_times
---
S.Safwana@alsahawat.com