---
The Saudi Arabian city of Dammam has been struck by a missile attack from Yemen
---
BREAKING NEWS




Al-Sahawat Times

This story is currently developing. Further updates will follow

To be notified of developments as they break
---
Al-Sahawat Times | Ethical Global News from Oman and UAE | Donate HERE
---
Saudi Arabian city of Dammam "struck with long-range Houthi ballistic missile" attack from Yemen.
Yemen's Houthis launched a ballistic missile attack on a Saudi military position in the eastern city of Dammam, the group announced on Thursday (today), the first such long-range cross-border attack.
"The force launched an advanced long-range ballistic missile towards an important military target deep into Saudi Arabia's Dammam in a new and practical test of the Yemeni missile force," Houthi Brigadier General Yahya Sari said in a statement.
Damman is on Saudi Arabia's eastern Gulf coast close to the island Kingdom of Bahrain and Qatar.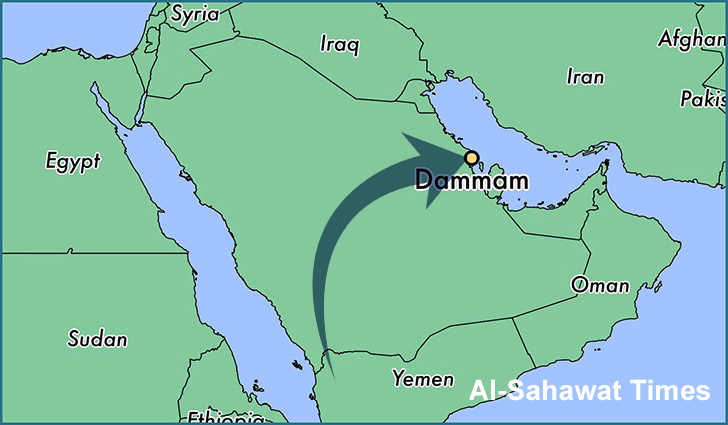 "The attack was a response to Saudi Arabia's crimes of aggression against the people of Yemen" the Houthi official said, warning foreign companies and citizens to stay away from military positions in Saudi Arabia which he said "have become legitimate targets".
The attack signifies a significant escalation of the conflict. An evolution from civil war to international conflict.
Dammam is located in the easternmost part of Saudi Arabia and is an essential centre for economic companies including Saudi Aramco, a major oil export hub.
Houthi rebels have increased cross-border attacks on the Saudi kingdom in recent weeks, though Thursday's attack on Dammam is the first to demonstrate the group's long-range capabilities.
On Sunday, Yemen's Houthi rebels said they launched a drone attack on Saudi Arabia's Abha international airport.
The Houthis said they used Qasif 2 drones in the attack, adding that the strikes were "accurate", Al-Masirah TV reported, citing the group's military spokesman.
Also on Thursday, Houthi Brigadier General Yahya Sari claimed the rebel group launched an attack on security forces in Yemen's coastal city of Aden, killing dozens of fresh military graduates during a military parade.
That followed an earlier blast at a police station in Aden's Sheikh Othman, although it is unknown who launched that attack.
The difficulty for international observers comes because the attacks can be varied as genuine. But those claiming responsibility for the attacks can't not be verified in many cases. This doesn't mean that they were not responsible, but it means it is unclear if they really did carry out the attacks or if their claims are for propaganda proposes.
However, whilst Saudi Arabia has not officially released a statement regarding today's attack in Dammam, no other group has claimed responsibility and on the balance of probability, most international observers have accepted that the missile came from Houthi controlled North West Yemen.
The conflict in Yemen began with the 2014 takeover of northern and central Yemen by Houthis, driving out the internationally recognised government from the capital, Sanaa.
Months later, in March 2015, a Saudi-led coalition launched an air campaign to prevent the Houthis from overrunning the country's south.
In the campaign, like in all long range air strike wars, Saudi-led airstrikes have hit schools, hospitals and wedding parties and killed thousands of civilians. The Houthis have used drones and missiles to attack Saudi Arabia and have targeted vessels in the Red Sea in response.
Both sides have urged civilians and businesses in their opposing countries to stay clear of military targets in some bare minimum attempts at reducing civilian casualties.
Civilians however have borne the brunt of the conflict, which has created what the United Nations says is the world's worst current humanitarian crisis.
The war has killed at least 91,600 people since 2015, according to the Armed Conflict Location & Event Data Project, or ACLED, which tracks the violence.
Yemen unified in 1990. After The fall of the Ottoman Empire in WW1, South Yemen was captured by the British and came under British-Indian-Empire rule. Whilst the Northen, independent republic was supported and supplied by Saudi Arabia.
When the British left South Yemmen the USSR supported and supplied the region which established a communist state.
Fighting broke out in the 1970s between the North and South with Saudi Arabia supporting the North and the USSR supporting the South.
With the global demise of communism Yemen unified in 1990.
Tensions between the North and South have simmered ever since.
The Houthis accused the politicians of corruption amongst a long list of other complaints and in 2014 attempted to seize control of the country.
The international community does not recognise the Houthis as the official government. Saudi Arabia has waged a war against the Houthis for the past 4 years.
Over recent year the number of attacks on Saudi Arabia's soil have become more frequent, more deadly and longer ranging.
---
Since you're here …

… we have a small favour to ask. More people are reading Al-Sahawat Times than ever but advertising revenues across the global media industry are falling fast. And unlike many news organisations, we haven't put up a total paywall. We want to keep our journalism as open as we can. So you can see why we need to ask for your help. Al-Sahawat Times' independent, investigative journalism takes a lot of time, money and hard work to produce. But we do it because we believe truly ethical media and an unbias perspective really matters.

"I appreciate there not being a paywall: it is more democratic for the media to be available for all and not a commodity to be purchased by a few. I'm happy to make a contribution so others with less means still have access to information."

If everyone who reads our reporting, who likes it, helps fund it, the future of ethical media and the futures of our staff and their families would be much more secure. For as little as £1, you can support Al-Sahawat Times and it only takes a minute. Thank you.
---
This story is available on:
---
Talk to a journalist
Email: NewsDesk@alsahawat.com
Web: alsahawat.com
Follow Al-Sahawat Times
⬆️ Follow on Instagram
⬆️ Follow on Twitter
⬆️ Follow on LinkedIn
⬆️ Follow on Facebook
⬆️ Follow on YouTube
Read it on FLIPBOARD