---
Apple iPhone no longer he world's second most popular phone
---
---
Apple has been overtaken by the Chinese smartphone giant Huawei as the world's second-biggest smartphone manufacturer by sales, sending the iPhone maker into third place for the first time since Blackberry and Nokia ruled the market a decade ago.
Huawei's market share surpassed Apple's in June and July, according to figures from Counterpoint Research. While the dip is likely to be temporary, with Apple announcement of a new range of iPhones next week likely to invigorate sales, breaking the duopoly enjoyed by Samsung and Apple that has existed for five straight years is a landmark moment.
Apple has held one of the top two spots in the market since 2010, when it surpassed BlackBerry maker Research in Motion to second place before going on to dethrone and effectively kill off Nokia.
The company has vied with Samsung for the greatest share of smartphone sales in recent years, although Apple takes almost all of the industry's profits, Samsung has the production numbers.
Huawei, a telecoms group that was largely unknown in the West until a few years ago, has struggled to compete against Apple and Samsung at the high end of the market, but its low-priced handsets have proved popular in China, South America and the Middle East.
"This is a significant milestone for Huawei, the largest Chinese smartphone brand with a growing global presence." Counterpoint's Peter Richardson said.
"While this streak could be temporary considering the annual iPhone refresh is just around the corner, it nevertheless underscores the rate at which Huawei has been growing."
Apple's breakneck growth has slowed down in recent years, with iPhone sales slipping in 2016 and only growing marginally this year.
Nonetheless, shares have traded at all-time highs in recent days with the company's market value sitting between $830 bn and $1 tr USD.
Expectations are high ahead of Tuesday, when the company is expected to unveil an overhauled iPhone with a radically-new design that some analysts believe will kickstart a major fiscal and market share growth.
The device is likely to feature a new glass design, a screen that takes up almost all of the handset, plus new features such as wireless charging and facial recognition.
With new iPhones likely to be the most costly in the UK at £1'500 GBP for the top models it is easy to see why Apple doesn't require top market share to take home all of the profit.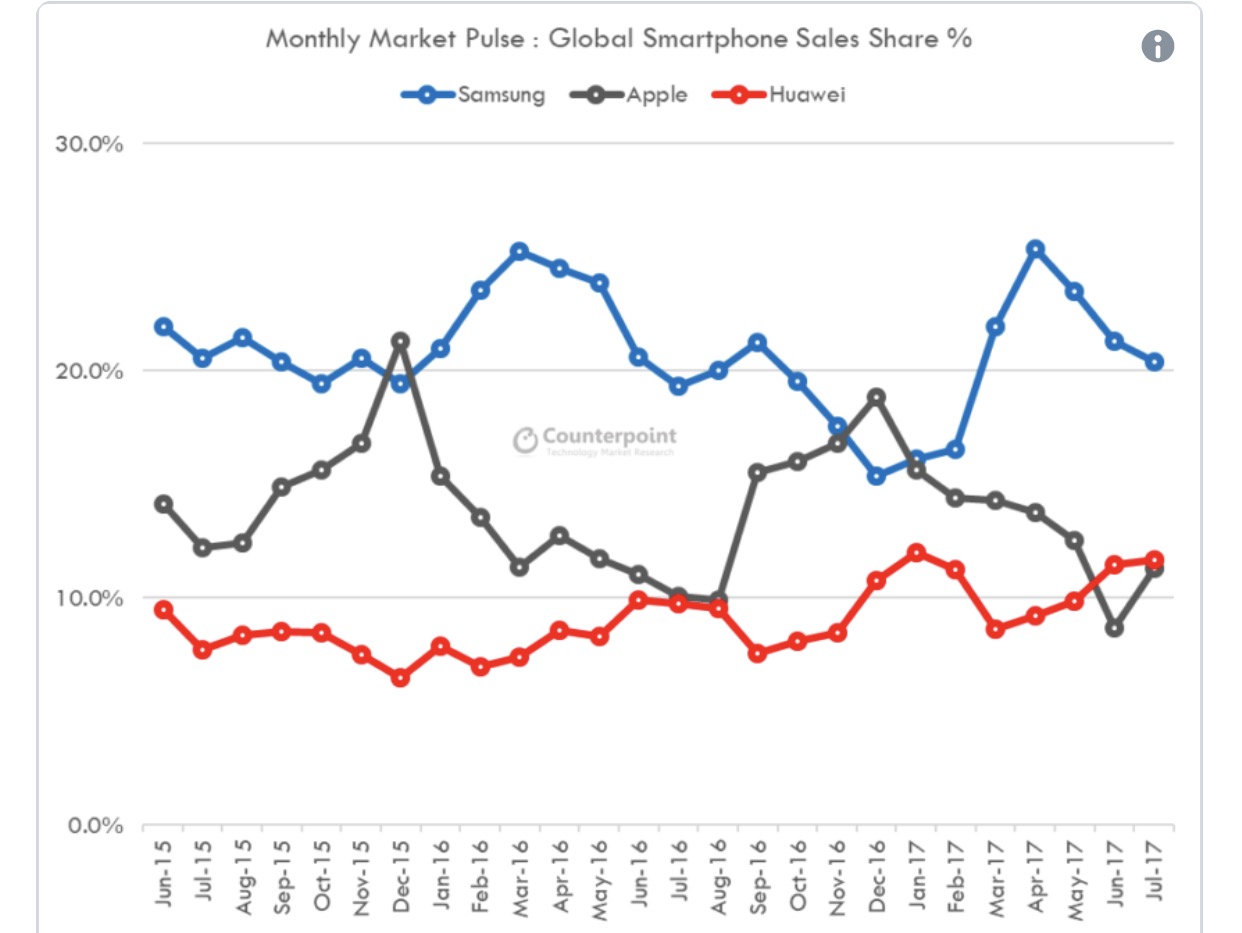 ---
Al-Sahawat Times | Ethical Global News from Oman and UAE | Donate HERE
---
---
---
---
This story is available on:

APPLE NEWS | GOOGLE NEWS | AL-SAHAWAT TIMES
---
Talk to a journalist:
Email: NewsDesk@alsahawat.com
Web: alsahawat.com
Twitter: @alsahawat_times
---
Z.Afzani@alsahawat.com