---
Worst gun attack in US history as 586 shot in Las Vegas
---
---
---
Las Vegas is still trying to wrap its head around the recent tragic attack.
586 people were shot with 59 confirmed killed.
No no motive was ever found as to why the multi millionaire, white, Christian male, with no criminal record, drug use or mental illness committed the worst mass shooting in US history.
A gunman in a high-rise hotel overlooking the Las Vegas Strip opened fire on a country music festival as the three day event came to a close. Shooting at least 586 people of which which 59 have so far died. Many other remain in critical condition with a number of people still missing in the deadliest mass shooting in modern American history.
The gunman, identified by police as a white, Christian male ahed 64. His name is being with held by Al-Sahawat Times although published by other media outlets out of consideration and safety concerns for his family. The gunman was shot dead by officers in his hotel room on the 32nd floor of the Mandalay Bay Resort and Casino, Sheriff Joseph Lombardo said during a news briefing Monday.
The shooting marked the nation's latest outbreak of gunfire and bloodshed to erupt in a public place, again spreading terror as a US city became a war zone.
The carnage in Las Vegas surpassed the death toll of the 49 people slain in June 2016 when a Daesh gunman in Orlando, opened fire inside a crowded nightclub.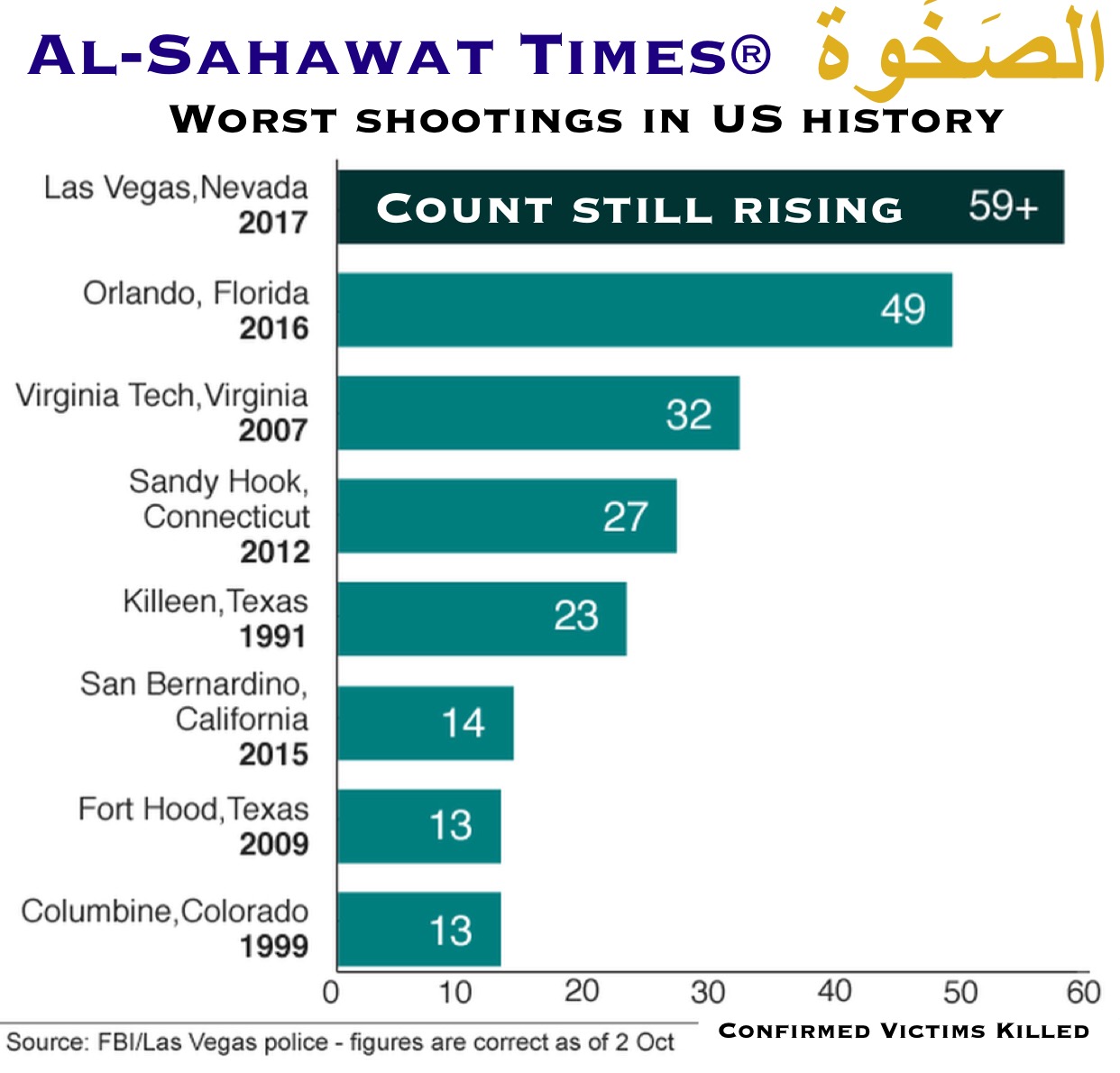 Lombardo said the death toll had reached at least 59 by Monday morning, a number that "will inevitably rise", as police are still investigating the scene and hundreds remain in a critical condition in hospitals.
Lombardo also said an additional 527 people were injured.
In addition to the 586 confirmed victims an untold number was hurt in a stampede during the incident.
The running total:

Confirmed dead: 59

Injured: 527

Missing: estimates at ~ 100

Total confirmed victims: 586

Total estimated victims including those injured in the stampede: ~1'000

Total number of intended victims ~22'000
---
Al-Sahawat Times | Ethical Global News from Oman and UAE | Donate HERE
---
---
This story is available on:

APPLE NEWS | GOOGLE NEWS | AL-SAHAWAT TIMES
---
Talk to a journalist:
Email: NewsDesk@alsahawat.com
Web: alsahawat.com
Twitter: @alsahawat_times
---
L.AlHajj@alsahawat.com