---
Balkan earthquakes trigger tsunami warning as dead recovered in Bosnia, Albania and Crete
---
Killer Balkan earthquakes trigger tsunami warnings as rescue teams continue to recover the dead in Bosnia, Albania and Crete.
The Balkans were hit with three powerful earthquakes in 24 hours as Albania's Tirana was hit by a 6.4 magnitude earthquake, Bosnia's Sarajevo was hit with a 5.4 magnitude earthquake and Crete was hit by a 6.0 magnitude earthquake.
The death toll is continuing to rise but is already in the dozens with at least 40 dying in the Albania quake.
The Balkans are a hot bed of geological activity ringed by mountains and volcanos that run from Italy in the west to Turkey and Iran in the east.
The Balkans are where the Eurasian, African, Arabian, Anatolian and Aegean tectonic plates all converge. The area is no stranger to powerful earthquakes and is surrounded by active volcanos.
Experts say that the seismic tension build up under the Balkan and East Mediterranean regions is inevitably going to produce a very large earthquake in the region.
There have also been warnings that Balkan earthquakes may trigger large tsunamis in the East Mediterranean.
Aftershocks in Bosnia and Albania with seismology stations giving readings varying between 5.9 and 6.5 on the Richter scale. The EU's official figures read 6.4 and 5.4.
Dr. Jadranka Mihaljević head of seismology at the institute of Hydrometeorology in Crna Gora, said that deadly earthquakes in the Balkans have a long history. "What we are seeing now is a very strong, very powerful sequence of earthquakes."
in 1999, a 7.6 magnitude earthquake in the region killed 17 thousand people in Turkey.
In the late 1970s a series of earthquakes killed thousands across Romania, Greece and the Former Yugoslavia (Jugoslavija).
Dr. Mihaljević added:
"The deadly 1977-1979 series was followed by a quiet period where new seismic energy was accumulating. But after 40 years of relatively calm seismicity, strong quakes seem to be back."
Croatia's tourist board has expressed concern at the potential damage the earthquakes and tsunami warnings could have on the newly booming tourist industry following years of war and genocide.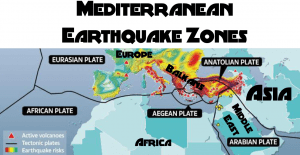 ---
Since you're here …

… we have a small favour to ask. More people are reading Al-Sahawat Times than ever but advertising revenues across the global media industry are falling fast. And unlike many news organisations, we haven't put up a total paywall. We want to keep our journalism as open as we can. So you can see why we need to ask for your help. Al-Sahawat Times' independent, investigative journalism takes a lot of time, money and hard work to produce. But we do it because we believe truly ethical media and an unbias perspective really matters.

"I appreciate there not being a paywall: it is more democratic for the media to be available for all and not a commodity to be purchased by a few. I'm happy to make a contribution so others with less means still have access to information."

If everyone who reads our reporting, who likes it, helps fund it, the future of ethical media and the futures of our staff and their families would be much more secure. For as little as £1, you can support Al-Sahawat Times and it only takes a minute. Thank you.
---
This story is available on:
---
Talk to a journalist
Email: NewsDesk@alsahawat.com
Web: alsahawat.com
Follow Al-Sahawat Times
⬆️ Follow on Instagram
⬆️ Follow on Twitter
⬆️ Follow on LinkedIn
⬆️ Follow on Facebook
⬆️ Follow on YouTube
Read it on FLIPBOARD