---
Barcelona Terror Attack as van hits crowds in Las Ramblas tourist district
---
---
Spanish Police have confirmed to Al-Sahawat Times Europe who were on the scene at Las Ramblas in Barcelona that a van has hit crowds of tourists in the heavily populated district.
The incident occurred moments ago and is initially being held as an intentional act of terror.
A white van mounted the pavement of the main tourist area in the city and struck several people, police said.
El Pais newspaper report that intercepted police communications say there are 20 wounded and one dead.
Two armed men have since entered a restaurant in the city and have taken hostages.
The attackers are cornered in a bar in the Raval district, on Calle Tallers, towards the end of Las Ramblas.
Pictures from the scene of the attack show emergency services and civilians attending to at least two people on the ground.
One social media video post shows bodies strewn across the pavement for at least 100 metres of the famous stretch of road.
The Ministry of the Interior said on Twitter: "There has just been a massive crash on the Ramblas in Barcelona by a person with a van. There are injured."
Emergency services in Catalonia say they have asked the Metro and train services in the area to close.
They have also cordoned off the wide street and shut down several of the shops.
Social media footage showed many people fleeing the area in alarm and a helicopter flying overhead.
The National Police have told people to avoid Plaza Catalunya area after the smash in Las Ramblas.
An eyewitness, lawyer Aamer Anwar, who's at a conference in the city, said: "All of a sudden I heard a crashing noise, and the whole street just started to run screaming."
One local woman can be seen screaming for her children who are missing since the van struck the crowds.
More developments to come…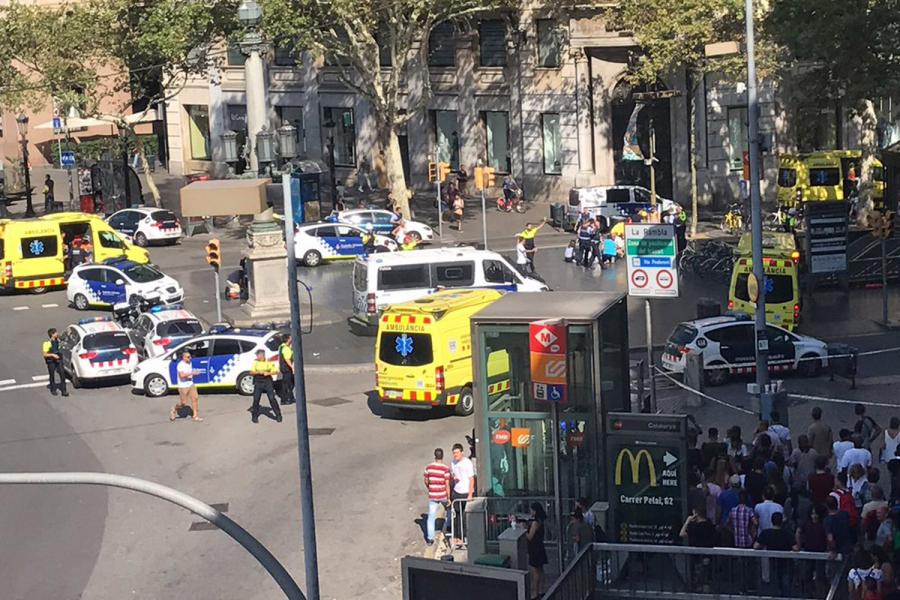 ---
Al-Sahawat Times | Ethical Global News from Oman and UAE | Donate HERE
---
---
---
---
This story is available on:

APPLE NEWS | GOOGLE NEWS | AL-SAHAWAT TIMES
---
Talk to a journalist:
Email: NewsDesk@alsahawat.com
Web: alsahawat.com
Twitter: @alsahawat_times
---
M.Sevilla@alsahawat.com