---
Oxford Street Attack
---
---
---
Twin events in Europe's busiest shopping district on Black Friday left central London on armed police lock down with stampedes, strewn shopping bags and one Man left in a critical condition.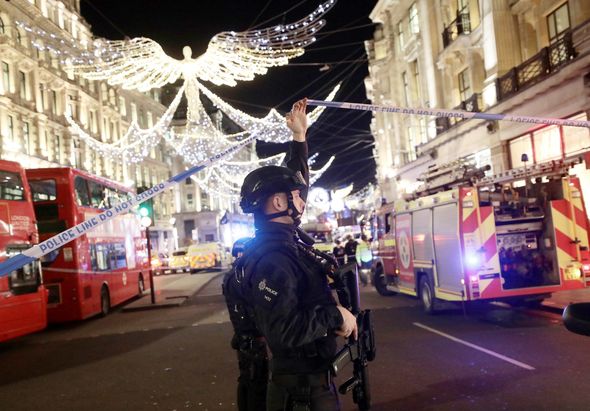 A planned police operation was already underway resulting in nine arrests over an attack at Oxford Circus Tube station that left Polish man with fractured skull.
Police are still hunting six other suspects.
Nine people have been arrested over an attack at one of London's busiest Tube stations that left a Polish man with a fractured skull.
The man was left fighting for his life in hospital after he was "viciously attacked" at Oxford Circus Tube station.
Police were called to reports of a serious assault on the southbound Bakerloo line platform three at about 11.15am on Sunday, 5th November 2017.
Following a police appeal for information, nine people have been arrested.
Two 19-year-old women, two 19-year-old men, a 17-year-old girl and a 23-year-old man, all from the London area, were arrested on Wednesday.
A further three females, aged 16, 17 and 19, all from the London area were arrested on Friday and are currently in police custody.
This operation came as a mass panic over 'gun fire' triggered a district wide lock down and mass stampedes.
---
Al-Sahawat Times | Ethical Global News from Oman and UAE | Donate HERE
---
Armed police, armed Special Operations 15 units and C-Unit forces locked down central London last night after 'shots fired' at Tube station and on Europe's busiest shopping street.
Police launched an armed response to reports of gunfire as Oxford Street was placed on lock down on one of the busiest shopping nights of the year.
Oxford Circus Tube station and Bond Street Tube station was evacuated and shoppers were told to stay indoors as emergency services swarmed the capital's busiest shopping street.
Scotland Yard had warned tourists and shoppers at the scene to go into a building and stay inside, shoppers were locked in to stores as emergency shutters were activated.
Police were called to reports of shots fired on Oxford Street and at the Tube station shortly after 16:30 on Black Friday as city workers and tourists hit the district to shop for seasonal discounts.
A spokesman said: "Police have responded as if the incident is terrorist related. Armed and unarmed officers are on scene and dealing along with colleagues from British Transport Police."
The spokesman later added: "To date police have not located any trace of any suspects, evidence of shots fired or casualties. Updates will be provided as soon as we have them."
Witnesses reported being locked inside shops including Zara and Urban Outfitters.
Other panicked shoppers began screaming and running amid the large police presence in the area.
One witness told Al-Sahawat Times "There were screams and then everybody started running. I thought originally it was a car driving into traffic but then we heard gunshots. Everybody ran into stores or hotels. A window shattered in front of us at Debenhams but I'm not sure if it was a gun or somebody in a panic trying to get it. We ran in a hotel. Police aren't letting anyone outside yet."
The UK newspaper Daily Mail originally reported cars drivimgninto pedestrians, the story was quickly deleted and retracted with the mistake blamed on a false twitter source from two weeks early.
American Laila Harilela told CNN: "I was on the corner of Oxford and Poland when there was a big scream from a stampede of people rushing towards myself and maybe four or five other people. None of us knew what to do so we ran with the stampede and tried to get into any shops and EE was very kind enough to allow ten of us in. It was a whole stampede that pushed us through on Oxford Street and as we were on the ground floor of EE we heard little pops Now we've been pushed up to a higher level to keep us safe."
Special effects worker Ellis Parry was near the scene.
He said: "I was with colleagues and we were walking back to the office at the time and we heard sirens going. We were told by work to get back to the office. People were running everywhere. Police told us to go inside. We are now inside and don't know what's going on."
One person wrote on Twitter: "Everyone sprinting off Oxford Street after loads of sirens what has happened?"
Police are searching for two adult males who's fight on a platform on the Central Line at Oxford Circus is believed to have triggered the hysteria.
London has seen a large string of deadly terror attacks this year with the public clearly on edge at a subconscious level.
Downing Street issued a statement urging public to continue to dial 999 should they be in any doubt. He statement urged people not to panic but to dial 999 if there is any doubt and follow emergency procedures. Theresa May also congratulated the emergency services for their swift response.
Fire, Medical, Police, Armed and Search teams arrived in vast numbers with police taking to the street she with hand held cameras in large numbers to search for suspects.
It is believed that a 'bang' from the fight was initially mistaken for a gun shot in the crushing crowds leading to the first stampede.
Panicked people kicking and smashing shop windows to search for a hiding place are believed to be responsible for the "numerous 999 calls reporting gun fire in multiple locations throughout the area" the Met police said.
Police have stressed that this is a working theory and not all details are clear yet.
Specialist multi layer barriers were installed on many of Central London's streets and Bridges this year to protect the public from vehicle attacks. Bag searches have also been set up at all major festive attractions with heavy police and armed police presence.
The UK remains on the second highest terror threat level, mainly aimed at London. Meaning that the government sees a deadly attack as highly probable but not imminent.
The stampedes left upto 20 people injured with one female sustaining a "significant leg injury".
---
This story is available on:

APPLE NEWS | GOOGLE NEWS | AL-SAHAWAT TIMES
---
Talk to a journalist:
Email: NewsDesk@alsahawat.com
Web: alsahawat.com
Twitter: @alsahawat_times
---
A.Dragicovic@alsahawat.com