---
Historic Notre Dame Cathedral Fire latest
---
BREAKING NEWS

Al-Sahawat Times

This story is currently developing. Further updates will follow

To be notified of developments as they break
---
Al-Sahawat Times | Ethical Global News from Oman and UAE | Donate HERE
---
EARLIER TODAY
The roof and main spire of the world famous Notre Dame cathedral collapsed after a devastating blaze tore the 800 year old sacred site apart in the French capital of Paris.
A major operation continues this evening to bring the fire under control after it broke out on Monday afternoon in the French capital.
At Present
Smoke can still be seen billowing out from the top of the gothic cathedral, as flames leap out besides its two bell towers. A heavy cloud of smoke hangs over Paris, both physically and emotionally as the beloved icon falls.
It was not immediately clear what had caused the fire at the landmark which attracts millions of tourists every year.
French president Emmanuel Macron remains at the scene of the Notre Dame fire.
French president Emmanuel Macron is treating the fire gutting Notre Dame as a national emergency.
Meanwhile, France's civil security agency says "all means" except for water-dropping aircraft, were deployed to tackle the blaze.
The agency said that would be unsuitable for fires like the one at Notre Dame because dumping water on the building could cause the whole structure to collapse. US President Donald Trump, urged Macron to ignore this advice and water dump.
The mammoth fire that destroyed the spire of Notre Dame Cathedral has spread to one of the church's landmark rectangular towers.
Paris police said firefighters are inside the cathedral working to put the flames out, while others work from the exterior. Red smoke continues to pour out of the cathedral.
800 years of heritage
French writer and historian Camille Pascal has said the fire has caused "the destruction of invaluable heritage" and that "we can be only horrified by what we see."
Mr Pascal told French broadcaster BFMTV: "It's been 800 years that the Cathedral watches over Paris" and its bells pealed for both "happy and unfortunate events".
History of Notre Dame Cathedral – Paris' most visited land mark
One of the city's oldest and most recognisable buildings, work began on Notre Dame de Paris Cathedral in 1163 CE.
The original structure was completed nearly 200 years later, in 1345, and its name literally translates to "Our Lady of Paris".
Some 13 million people now visit the Catholic landmark every year – more than 30,000 every day on average – according to its official website, and it is believed to be the most visited structure in the French capital.
The first stone of the original structure was laid in front of Pope Alexander III after the Bishop of Paris, Maurice de Sully, proposed the cathedral after his election in 1160.
It grew in iconic significance after featuring in popular culture through several artistic works, including the Victor Hugo novel The Hunchback of Notre Dame, which was published in 1831 and adapted by Disney in 1996.
The cathedral also houses a beehive over the sacristy, which was added in spring 2013.
Donald Trump tweeted some very poor advice:

"So horrible to watch the massive fire at Notre Dame Cathedral in Paris. Perhaps flying water tankers could be used to put it out. Must act quickly!"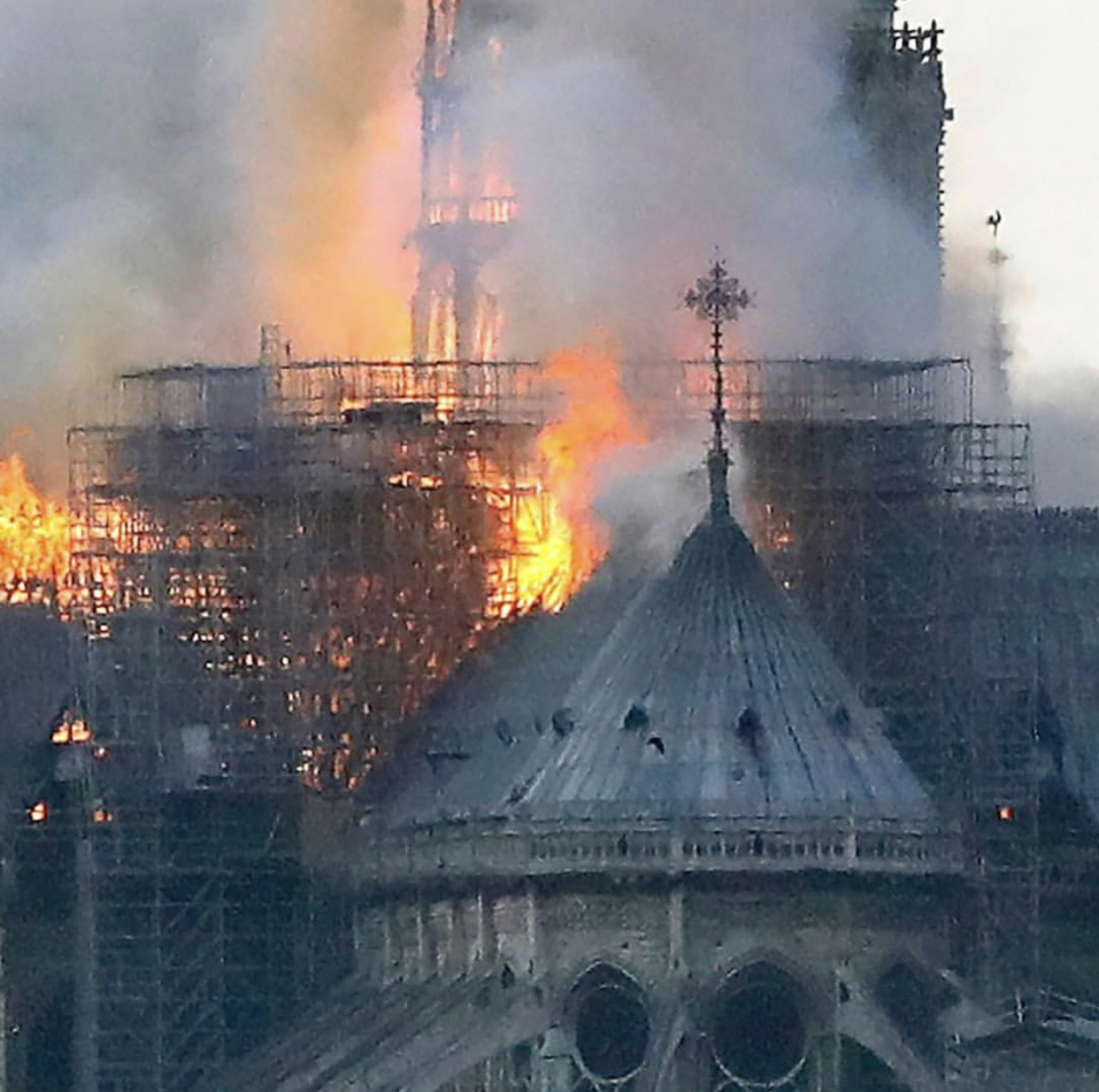 ---
Since you're here …

… we have a small favour to ask. More people are reading Al-Sahawat Times than ever but advertising revenues across the global media industry are falling fast. And unlike many news organisations, we haven't put up a total paywall. We want to keep our journalism as open as we can. So you can see why we need to ask for your help. Al-Sahawat Times' independent, investigative journalism takes a lot of time, money and hard work to produce. But we do it because we believe truly ethical media and an unbias perspective really matters.

"I appreciate there not being a paywall: it is more democratic for the media to be available for all and not a commodity to be purchased by a few. I'm happy to make a contribution so others with less means still have access to information."

If everyone who reads our reporting, who likes it, helps fund it, the future of ethical media and the futures of our staff and their families would be much more secure. For as little as £1, you can support Al-Sahawat Times and it only takes a minute. Thank you.
---
This story is available on:

APPLE NEWS | GOOGLE NEWS | AL-SAHAWAT TIMES
---
Talk to a journalist
Email: NewsDesk@alsahawat.com
Web: alsahawat.com
Follow Al-Sahawat Times
⬆️ Follow on Instagram
⬆️ Follow on Twitter
⬆️ Follow on LinkedIn
⬆️ Follow on Facebook
⬆️ Follow on YouTube
?Read it on FLIPBOARD
---