---
Coronavirus spreads through British jails
---
Inmates and those awaiting trail in British jails are spreading Coronavirus 2019-nCoV to each other
HM Bullingdon, a prison close to tourist hotspot Bicester, 63 miles/101 km north of London has confirmed it is infected with Coronavirus 2019-nCoV. (also known as COVID-19)
The prison with 1'114 current inmates, a combination of sentenced inmates and civilians awaiting trial, has confined the infected to their cells 24 hours a day (usually inmate spend 23 hours per day in their cells). However in the grossly overcrowded and often unhygienic British prisons, disease spreads rapidly.
The WHO (World Health Organisation) has estimated the first vaccines not to be ready for at least another 18 months. However they expect the natural voracity of the virus to drop off before then.
The WHO had initially labeled the new strain of the Coronavirus (which is in the same family of Coronaviruses that cause SARS) Novel Coronavirus (meaning new Coronavirus), this was then rebranded as 2019-nCoV (standing for 2019 Novel Coronavirus), this has since been finally labeled and categorised as COVID-19 (Coronavirus ID 2019).
If you hear the terms Novel Coronavirus, nCoV or COVID19 they refer to one and the same disease.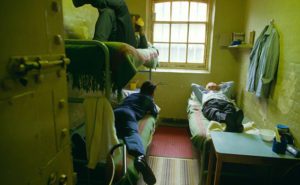 ℹ️ CODE OF ETHICS

This story has had identifiable information such as photographs, names, addresses and other data removed in accordance with the Al-Said Code of Ethics for Journalism and Media. (Read more…)
---
Since you're here …

… we have a small favour to ask. More people are reading Al-Sahawat Times than ever but advertising revenues across the global media industry are falling fast. And unlike many news organisations, we haven't put up a total paywall. We want to keep our journalism as open as we can. So you can see why we need to ask for your help. Al-Sahawat Times' independent, investigative journalism takes a lot of time, money and hard work to produce. But we do it because we believe truly ethical media and an unbias perspective really matters.

"I appreciate there not being a paywall: it is more democratic for the media to be available for all and not a commodity to be purchased by a few. I'm happy to make a contribution so others with less means still have access to information."

If everyone who reads our reporting, who likes it, helps fund it, the future of ethical media and the futures of our staff and their families would be much more secure. For as little as £1, you can support Al-Sahawat Times and it only takes a minute. Thank you.
---
This story is available on:
---
Talk to a journalist
Email: NewsDesk@alsahawat.com
Web: alsahawat.com
Follow Al-Sahawat Times
⬆️ Follow on Instagram
⬆️ Follow on Twitter
⬆️ Follow on LinkedIn
⬆️ Follow on Facebook
⬆️ Follow on YouTube
Read it on FLIPBOARD